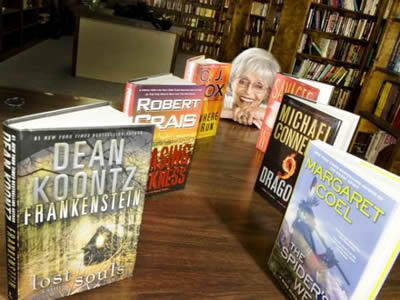 Our book club is open to all and we welcome new members. It's informal and discussions range from the selected book to others that the members have read during the previous month, as well as movies and TV shows of the genre.
The list of books read by our club are as follows: A Dangerous Man by Robert Crais; The Murder List by Hank Phillippi Ryan; Snow Blind by Ragnar Jonasson; Mister Tender's Girl and The Comfort of Black by Carter Wilson; The Word Is Murder and The Sentence Is Death by Anthony Horowitz; Keep You Close by Karen Cleveland, An Engineered Injustice by William L. Myers, Jr; Midnight in Peking by Paul French (not a mystery), Hunting Hour by Margaret Mizushima; The Woods by Harlan Coben; The Silent Patient by Alex Michaelides; The Shallows by Matt Goodman; The Favorite Daughter by Kaira Ruida;Stone Angel, Killing Critics, The Man Who Cast Two Shadows and Mallory's Oracle by Carol O'Connell; The Devil's Punchbowl by Gregg Iles; Bring Me Back by B. A. Paris; The Wife Between Us by Greer Hendricks; The Night Visitors by Carol Goodman; I Found You by Lisa Jewel; If Books Could Kill by Kate Carlisle; Who Watcheth by Helene Turston; Death On The Sapphire by R. S. Koreto; Bone By Bone by Carol O'Connell; Switcheroo by Aaron Elkins; Bloody Scotland edited by James Crawford; NOTE: by indicating certain books are not mysteries is for clarification only – it does not mean they aren't excellent books well worth reading.
Our next meeting will be on Wednesday, July 31 at 6:00 p.m, and the book we will be reading is THE LAND OF SHADOWS by Rachel Howzell Hall.
SHAKESPEARE AT BOOK CARNIVAL!
If you love "The Bard", then join us for Saturday Morning Shakespeare! On the 2nd and 4th Saturdays of each month at 10:00 a.m, the Saturday Morning Shakespeare Reading Group meets to read and discuss one of Shakespeare's plays. You are welcome to join – all you have to do is show up!