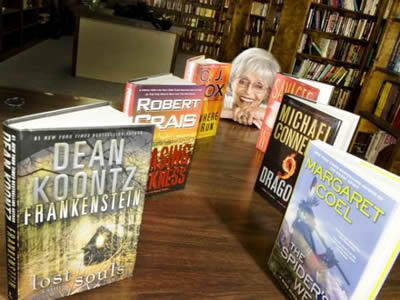 Our book club is open to all and we welcome new members. It's informal and discussions range from the selected book to others that the members have read during the previous month, as well as movies and TV shows of the genre.
The list of books read by the book club members in July are: Dark Town by Thomas Mullen, Rescue by David Rosenfelt, The Other Woman by Daniel Silva, Watch Me Disappear by Janelle Brown, Who Watcheth by Helene Tursten, Us Against You by Frederick Backman (not a mystery), Rock With Wings by Anne Hillerman, Night of the Living Dead by E. J. Copperman, Trust Me by Hank Phillippe Ryan, The Death of Mrs. Westaway by Ruth Ware, Believe Me by J. P. Delaney, Term Limits by Vince Flynn, Noise From Downstairs by Linwood Barclay, The Burning Room by Michael Connelly, Air Tight by David Rosenfelt, Black Elk Speaks by John G. Neihardt (non-fiction), Broken Ice by Matt Goldman, The Devil's Half Mile by Paddy Hirsch, Hollywood Crows by John Wambaugh, A Midnight Clear by William Wharton (not a mystery), In The Blood by Steve Robinson, Wrecked by Joe Ide, Abigale Hall by Lauren A. Forry.
Our next meeting will be on Wednesday, August 29 , at 6:00 p.m, and the book we are reading is THE DARLINGS by Cristina Alger. Copies are available, so if you want one let me know.
Also don't forget to check our website  – annesbookcarnival.com  – I can update that immediately with new signings and news. This newsletter only comes out once a month.
SHAKESPEARE AT BOOK CARNIVAL!
If you love "The Bard", then join us for Saturday Morning Shakespeare! On the 2nd and 4th Saturdays of each month at 10:00 a.m, the Saturday Morning Shakespeare Reading Group meets to read and discuss one of Shakespeare's plays. You are welcome to join – all you have to do is show up!