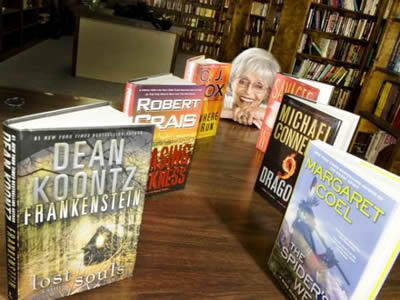 Our book club is open to all and we welcome new members. It's informal and discussions range from the selected book to others that the members have read during the previous month, as well as movies and TV shows of the genre.
We had another great meeting and, as usual, a fair amount of reading went on. Tag Man was a hit with everyone who had a chance to read the book. Certainly it was one of my favorites. Some member had gone on to read others by Archer Mayor.
Some of the other books read by members were: Enigma by Catherine Coulter; The Bookshop on the Corner by Jenny Colgan (not a mystery); A Deadly Affection by Cuyler Overholt; Sweetness At the Bottom of the Pie by Alan Bradly; Devious Death by Alyssa Maxwell; Witches' Tree by M. C. Beaton; Midnight Crossing and Grave Sight by Charlaine Harris; Two Can Keep A Secret by Archer Mayor; Lost Luggage by Wendall Thomas; Two Kinds of Truth by Michael Connelly; The Ancient Giants Who Ruled America by Richard J. Dewhurst (not a mystery); he by John Connolly (the reimagined life of Stan Laurel (not a mystery).
As far as television – Stranger Things is back! Yea!!
Our next meeting will be on Wednesday, November 29, at 6:00 p.m, and the book we are reading is JADE LADY BURNING by Martin Limon. I will order a few copies if anyone wants one.
We also plan to Skype with Archer Mayor at 7:00 P. M.- I will practice my tech skills between now and then!
Also don't forget to check our website  – annesbookcarnival.com  – I can update that immediately with new signings and news. This newsletter only comes out once a month.
SHAKESPEARE AT BOOK CARNIVAL!
If you love "The Bard", then join us for Saturday Morning Shakespeare! On the 2nd and 4th Saturdays of each month at 10:00 a.m, the Saturday Morning Shakespeare Reading Group meets to read and discuss one of Shakespeare's plays. You are welcome to join – all you have to do is show up!