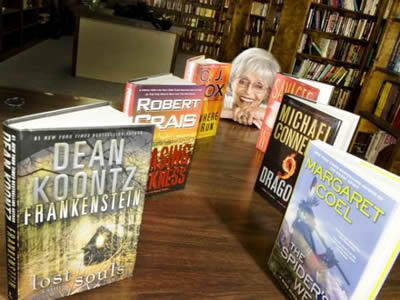 Our book club is open to all and we welcome new members. It's informal and discussions range from the selected book to others that the members have read during the previous month, as well as movies and TV shows of the genre.
Not sure how many of you check out Book Carnival's Facebook page, but I reposted a beautifully written piece originally posted by Julia Spencer Fleming which explains her long absence from writing. It's very much worth reading.
We did not have a January meeting, so requested that comments regarding The Last Dead Girl by Harry Dolan (December selection) as well as The Deep, Dark Descending by Alan Eskens (January selection) be emailed to me.Fully indicating the diverse readers we have in the club the comments ranged from loved both so much they went on to read other titles by the same authors to not favoring either the protagonist and/or the subject matter. So that means that, if you haven't already, you need to read the books yourself and decide what you think of them!
Other books read by our group are:  Long Gone by Alafair Burke; The Lying Game by Ruth Ware; Need to Know by Karen Cleveland; The Wife Between Us by Greer Hendricks & Sarah Pekkanen; We Need to Talk About Kevin by Lionel Shriver (there is also a movie on Netflix based on the book which the reader loved, but found the book even better. NOTE: An 'incident' is revealed at the beginning of the movie and at the end of the book – just so you are aware); Woman In The Window by A. J. Finn; The Break Down by A.B. Paris; Robicheaux by James Lee Burke; Manhattan Beach by Jennifer Egan; The Silent Corner by Dean Koontz; An Aegean April by Jeffrey Siger; The City of Endless Night by Preston & Child; Force of Nature by Jane Harper; The Seventh Victim by Nancy Churchill; Incendiary by Michael Cannell (true story); Very Bad Men by Harry Dolan; Midnight in Peking (true story); The Deceivers by Alex Berenson; Stealing Ghosts by Lance Charnes; Crimson Lake by Candice Fox and Raspberry Danish Murder by Joanne Fluke.
Also don't forget to check our website  – annesbookcarnival.com  – I can update that immediately with new signings and news. This newsletter only comes out once a month.Our next meeting will be on Wednesday, February 28, at 6:00 p.m, and the book we are reading is THE DECORATOR WHO KNEW TOO MUCH by Diane Vallere. . I will order a few copies if anyone wants one. Please let me know early if you want one – we do tend to run out fairly quickly.
SHAKESPEARE AT BOOK CARNIVAL!
If you love "The Bard", then join us for Saturday Morning Shakespeare! On the 2nd and 4th Saturdays of each month at 10:00 a.m, the Saturday Morning Shakespeare Reading Group meets to read and discuss one of Shakespeare's plays. You are welcome to join – all you have to do is show up!