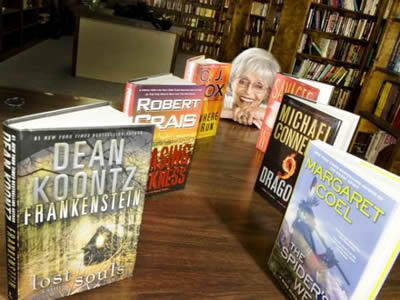 Our book club is open to all and we welcome new members. It's informal and discussions range from the selected book to others that the members have read during the previous month, as well as movies and TV shows of the genre.
The list of books read by our club are as follows: Chill of Fear by Kay Hooper; My Friend Marilyn by Christoher Lentz; For The Roses by Julie Garwood (an old favorite of mine);Of Blood and Bone by Nora Roberts (excellent new series); Big Little Lies by Liane Moriarty; August Snow by Stephen Mack Jones; Need To Know by Karen Cleveland; The Break Down by B. A. Paris; The Burglar by Thomas Perry; The Sever Or Eight Deaths of Stella Fortuna (not a mystery, but well worth your time), Out Of The Dark by Gregg Hurwitz, The Night Agent by Matthew Quirk, The Reckless by David Putnam, Let It Burn by Steve Hamilton, The Shadows We Hide by Allen Eskins, Then She Was Gone by Lisa Jewell,The Old May by Thomas Perry, A Day In The Life Of Louis Bloom by Paul Charles, Six Four by Hideo Yokuyama, Fata Morgans by Steven Boyett, Career of Evil and The Silkworm by Robert Galbraith, Merry Christmas, Alex Cross by James Patterson, The Boyfriend by Thomas Perry, A Spark of Life by Jodi Picolt (not a mystery), Dark Sacred Night by Michael Connelly, Nine Perfect Strangers by Liane Moriarty, Heads You Win by Jeffrey Archer, A Deadly Eclair by Daryl Wood Gerber, Magpie Murders by Anthony Horowitz, Judgement by Joseph Finder, Absolute Proof by Peter James, Snakehead by Peter May, An Anonymous Girl by Greer Hendricks and Susan Pakkanen, All The Way Down by Eric Beetner, The Perfect Liar by Thomas Christopher Green.
Our next meeting will be on Wednesday, February 27 and the book we are reading is The Frangipangi Tree Mystery by Ovidia Yu. 
SHAKESPEARE AT BOOK CARNIVAL!
If you love "The Bard", then join us for Saturday Morning Shakespeare! On the 2nd and 4th Saturdays of each month at 10:00 a.m, the Saturday Morning Shakespeare Reading Group meets to read and discuss one of Shakespeare's plays. You are welcome to join – all you have to do is show up!