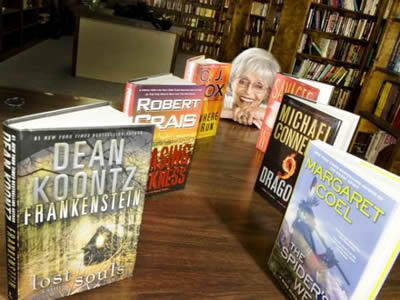 Our book club is open to all and we welcome new members. It's informal and discussions range from the selected book to others that the members have read during the previous month, as well as movies and TV shows of the genre.
The list of books read by our club are as follows: The Last Good Guy by T. Jefferson Parker, The House We Grew Up In by Lisa Jewell, This Storm by James Ellroy, Chinese Whispers by Peter May, Tailspin by Sandra Brown, For The Roses by Julie Garwood (not a mystery), The Novel by James Michener (not a mystery), Night Visitors by Carol Goodman, The Cuckoo's Calling and The Silkworm by Robert Galbraith, Drowned Under by Wendall Thomas, Button Man by Andrew Gross, Freefall by Jessica Barry, A Criminal Defense by William L. Myers, Jr., The Lost Man by Jane Harper, Before the Fall by Noah Hawley, Where The Drawdads Sing by Delia Owens (not a mystery), Duel To The Death by J. A. Jance, The Kept Woman by Karin Slaughter, Crunch Time by Diane Mott Davidson, Blood Promise by Mark Pryer, Target Tinos, Prey on Patmos and Assasins of Athans by Jeffrey Siger, Pretty Girls by Karin Slaughter, Redemption Point by Candice Fox, Keep You Close by Karen Cleveland, The Sentence is Death by Anthony Horowitz, The Better Sister by Alafair Burke, The Library Of Lost And Found by Phaedra Patrick (not a mystery) Sunshine State by D. P. Lyle, The Favorite Daughter by Kaira Rouda, The Island Of Sea Women by Lisa See, The Golde Tresses of the Dead (a Flavia de Luce) by Alan Bradley, Runaway by Peter May; The Secret Chimneys by Agatha Christie, Hunting Hour by Margaret Mizushima, One, Two, Buckle My Shoe by Jessie Hunter, Metropolis by Philip Kerr. NOTE: by indicating certain books are not mysteries is for clarification only – it does not mean they aren't excellent books well worth reading.
Our next meeting will be on Wednesday, June 26 at 6:00 p.m, and the book we will be reading is THE GONE TO DUST BY MATT GOLDMAN.
SHAKESPEARE AT BOOK CARNIVAL!
If you love "The Bard", then join us for Saturday Morning Shakespeare! On the 2nd and 4th Saturdays of each month at 10:00 a.m, the Saturday Morning Shakespeare Reading Group meets to read and discuss one of Shakespeare's plays. You are welcome to join – all you have to do is show up!