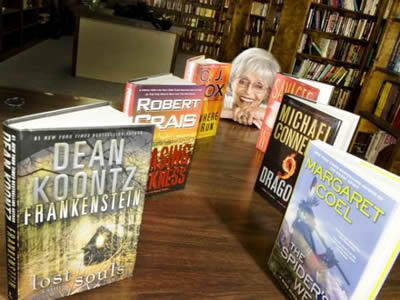 Our book club is open to all and we welcome new members. It's informal and discussions range from the selected book to others that the members have read during the previous month, as well as movies and TV shows of the genre.
We had a lovely second visit with BARRY LANCET during this month's book club meeting. He joined us in some refreshments, endured all kinds of questions and helped pick a name for our drawing!
Her Royal Spyness by Rhys Bowen was enjoyed by all and a nice break from the deep, dark mysteries we have been reading of late.
Books read by our members were: Pall Bearers by Stephen Cannell; IQ by Joe Ide; The Naming of the Dead by Ian Rankin; Two Nights by Kathy Reichs; Not Dead Enough by Peter James; Peace Like A River by Leif Enger; I Know A Secret by Tess Gerritsen; Fire In The Hole by Elmore Leonard; Farleigh Field by Rhys Bowen. I had the opportunity to read an advanced copy of Year One:Chronicles Of The One by Nora Roberts – a very different book for this author and one I would recommend. It releases in December 2017.
Programs mentioned were 800 Words on PBS SoCal.
Our next meeting will be on Wednesday, September 27, at 6:00 p.m,  and the book we are reading is SECOND CHANCE by J. A. JANCE.  I will order a few copies if anyone needs one.
Also don't forget to check our website  – annesbookcarnival.com  – I can update that immediately with new signings and news. This newsletter only comes out once a month.
SHAKESPEARE AT BOOK CARNIVAL!
If you love "The Bard", then join us for Saturday Morning Shakespeare! On the 2nd and 4th Saturdays of each month at 10:00 a.m, the Saturday Morning Shakespeare Reading Group meets to read and discuss one of Shakespeare's plays. You are welcome to join – all you have to do is show up!