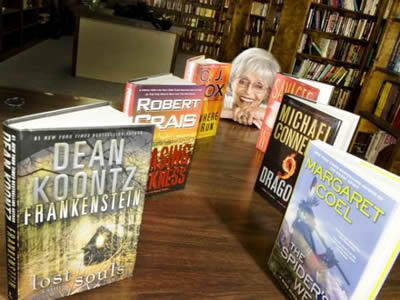 Our book club is open to all and we welcome new members. It's informal and discussions range from the selected book to others that the members have read during the previous month, as well as movies and TV shows of the genre.
The list of books read by our club are as follows: Chill of Fear by Kay Hooper; My Friend Marilyn by Christopher Lentz; For The Roses by Julie Garwood (an old favorite of mine);Of Blood and Bone by Nora Roberts (excellent new series); Big Little Lies by Liane Moriarty; August Snow by Stephen Mack Jones; Need To Know by Karen Cleveland; The Break Down by B. A. Paris; The Burglar by Thomas Perry;Deck The Halls by Mary & Carol Higgins Clark; A Cajun Christmas Killing by Ellen Byron; The Christmas Train by David Baldacci; Merry Christmas Alex Cross by James Patterson; The Adults by Caroline Hulse; Six-Four by Hudeo Yokoyama; Wrong Light by Matt Coyle; Newcomer by Keigo Higashino; The Cuckos Calling and The Silkworm by Robert Galbraith; Dogtripping by David Rosenfelt; Body On The Bayou, Plantation Shudders and Mardi Gras Murder by Ellen Byon; And All Through The House; 87th Precinct by Ed McBain.
The book we chose for January 2019 is THE BOYFRIEND by Thomas Perry. Our next book club meeting will be on January 30th at 6:00 P.M.
SHAKESPEARE AT BOOK CARNIVAL!
If you love "The Bard", then join us for Saturday Morning Shakespeare! On the 2nd and 4th Saturdays of each month at 10:00 a.m, the Saturday Morning Shakespeare Reading Group meets to read and discuss one of Shakespeare's plays. You are welcome to join – all you have to do is show up!