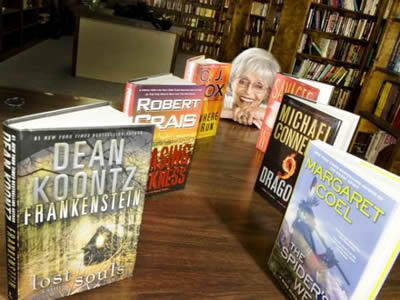 Our book club is open to all and we welcome new members. It's informal and discussions range from the selected book to others that the members have read during the previous month, as well as movies and TV shows of the genre.
The list of books read by the book club members in September are: The Happy Hoofer by Celia Imrie (not a mystery), The Stranger On The Train by Abbie Taylor, Emma In The Night by Wendy Walker, Sacred Ground by Barbara Wood, Wildfire by Ann Cleeves, Lies by Tim Logan, Field of Bones by J. A. Jance, Safe Houses by Dan Fesperman, Bring Me Back by B. A. Paris, The Sound of Glass by Karen White, The Twelve Dogs of Christmas, Who Let The Dog Out and Unleashed all by David Rosenfelt, The Western Star and Depth Of Winter by Craig Johnson, The Knowledge by Martha Grimes, My Sister's Grave by Robert Dugoni, The Murder Quadrille by Fidelis Morgan, No Man's Land by David Baldacci, 15 Seconds by Jeffery Gross, Never Look Down by Warren Easley, Find Me and It Happens In The Dark by Carol O'Connell
Our next meeting will be on Wednesday, October 24, at 6:00 p.m, and the book we are reading is The Murder Quadrille by Fidelis Morgan.  Please note this is one week early due to Halloween!
Also don't forget to check our website  – annesbookcarnival.com  – I can update that immediately with new signings and news. This newsletter only comes out once a month.
SHAKESPEARE AT BOOK CARNIVAL!
If you love "The Bard", then join us for Saturday Morning Shakespeare! On the 2nd and 4th Saturdays of each month at 10:00 a.m, the Saturday Morning Shakespeare Reading Group meets to read and discuss one of Shakespeare's plays. You are welcome to join – all you have to do is show up!