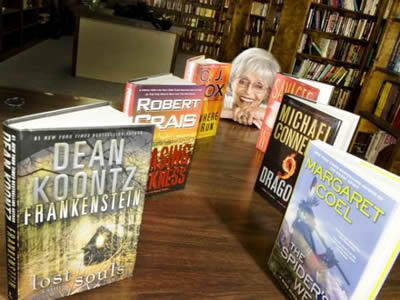 Our book club is open to all and we welcome new members. It's informal and discussions range from the selected book to others that the members have read during the previous month, as well as movies and TV shows of the genre.
The list of books read by our club are as follows: Lost Tomorrows by Matt Coyle; Murderabilia by Carl Vonderau; Lost Hills by Lee Goldberg; The Wild One by Nick Petrie; The Deserter by Nelson DeMille; Minute To Midnight by David Baldacci; The Body In The Transept, Trouble in Town Hall, Holy Terror In The Hebrides and Malice In Minature all by Jeanne M. Dams; Collared by David Rosenfelt; Calypso by David Sidaris; The Blend by Alan Dean Foster; G.I.Confidential by Martin Limon; Elevator Pitch by Linwood Barclay; A Cajun Christmas Killing by Ellen Byron; The Fifth Column by Andrew Gross; The Night Fire by Michael Connelly;Roadside Crosses by Jussi Adler Olsen; The Holiday Murders by Robert Gott; The Secret Holocaust Diaries by Nonna Bannister (not a mystery); The Old Man by Thomas Perry; Nothing Ventured by Jeffrey Archer; Kopp Sisters On The March by Amy Stewart; Midnight At The Bright Ideas Bookstore by Matthew Sullivan; 13 1/2 by Nevada Barr; Christmas Mourning by Margaret Maron; Murder In Astor Place by Victoria Thompson; The Chain by Adrian McKinty;
Our next meeting will be on Wednesday, December 18 at 6:00 p.m, and the book we will be reading is YOUR FAVORITE HOLIDAY STORY – your choice.  Any questions about this either email or call me. I will try to order some of copies for those interested. 
SHAKESPEARE AT BOOK CARNIVAL!
If you love "The Bard", then join us for Saturday Morning Shakespeare! On the 2nd and 4th Saturdays of each month at 10:00 a.m, the Saturday Morning Shakespeare Reading Group meets to read and discuss one of Shakespeare's plays. You are welcome to join – all you have to do is show up! SHAKESPEARE IS DARK IN DECEMBER; PLEASE JOIN US IN JANUARY 2020