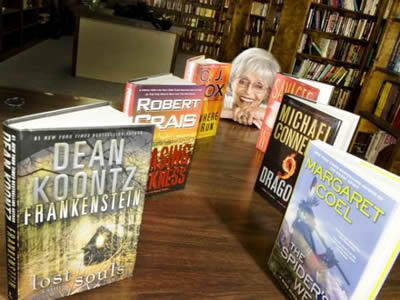 Our book club is open to all and we welcome new members. It's informal and discussions range from the selected book to others that the members have read during the previous month, as well as movies and TV shows of the genre.
Another enthusiastic meeting – most everyone really enjoyed Dead Simple by Peter James.
Oh, and the reading this group does! I may not get all of the book listed this time around, but will give it a good shot: G-Man by Stephen Hunter; Dead Man's Time by Peter James; The Couple Next Door by Shari Lapena; Here & Now by Haylin Beck (aka Stuart Neville); She Rides Shotgun by Harper Jordan; The Force by Don Winslow; Unsub by Megan Gardiner; Before the Fall by Noah Hawley; Blackout by Marc Elsberg; The Silent Corner by Dean Koontz; 7 Victim and Deadly Aftermath by Nancy Churchill; The Late Show by Michael Connelly; IQ by Joe Ide; Children's Act by Ian McEwan; Great Small Things by Jodi Picolt (not a mystery); Beartown by Frederick Backman (not a mystery); Into The Water by Paula Hawkins; Camino Island by John Grisham; Guilty By Association and Guilty By Degrees by Marcia Clark; Since We Fell by Dennis Lehane; My Italian Bulldozer by Alexander McCall Smith; A Dog's Way Home by Bruce Cameron (not a mystery).
A couple of TV shows were mentioned – Shooter currently on WGN, a Chicago station and Snowfall which starts on July 5 on FX. Also a podcast that Matt Coyle is doing – go to Crime Corner with Matt Coyle on Facebook, like it and check out the information.
Also, we enjoyed Barry Lancet so much at the event on Thursday, June 29 and he had so much more to share with us, that we have invited him back for our August book club meeting. He has traveled so much and has so much knowledge about the countries that are in the headlines these days, we just wanted to hear more! Be sure to make plans to attend.
Our next meeting will be on Wednesday, July 26, at 6:00 p.m,  and the book chosen is The Highway by C. J. Box.  This book should be available at the library and in softcover. If you find that is not the case, let me know and I will order some copies for you. If you have already read The Highway, you might want to get a head start on the August selection which is Her Royal Spyness by Rhys Bowen.
Also don't forget to check our website  –
annesbookcarnival.com
  – I can update that immediately with new signings and news. This newsletter only comes out once a month.
NOTE: I send out news to Book Club members in separate emails occasionally and I don't believe all of you are on that list. If you have not received such an email recently, please send me an email to info@annesbookcarnival.com so that I can add you. In the subject line type ADD TO LIST.  Thanks.  And I still need birth dates from many of you – just month and day!
SHAKESPEARE AT BOOK CARNIVAL!
If you love "The Bard", then join us for Saturday Morning Shakespeare! On the 2nd and 4th Saturdays of each month at 10:00 a.m, the Saturday Morning Shakespeare Reading Group meets to read and discuss one of Shakespeare's plays. You are welcome to join – all you have to do is show up!