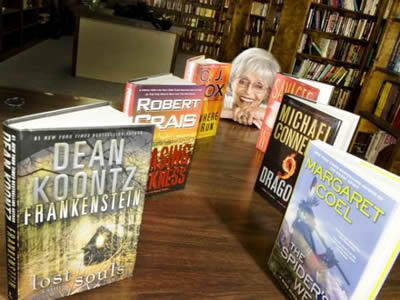 Our book club is open to all and we welcome new members. It's informal and discussions range from the selected book to others that the members have read during the previous month, as well as movies and TV shows of the genre.
The list of books read by our club are as follows: A Dangerous Man by Robert Crais; The Murder List by Hank Phillippi Ryan; What Rose Forgot by Nevada Barr; This Side of Night by J. Todd Scott; The Land of Wolves by Craig Johnson; Paris In The Twentieth Century by Jules Verne; An Elderly Lady Is Up To No Good by Helene Thursten; Heart of Barkness by Spencer Quinn; Button Man by Andrew Gross; Flight of the Fox by Gray Basnight, Murder of Quality by John LcCarre; Lost Roses by Martha Hall Kelly; Daisy Jones and the Six by Taylor Jenkins Reid; Lady In The Lake by Laura Lippman; The Escape Room by Megan Goldin; They All Fall Down by Rachel Howzell Hall; Truly, Madly, Deeply by Wendy Delaney; Tails From the Deep by Diane Vallere; Dog On It by Spencer Quinn.  NOTE: by indicating certain books are not mysteries is for clarification only – it does not mean they aren't excellent books well worth reading.
Our next meeting will be on Wednesday, August 28 at 6:00 p.m, and the book we will be reading is BOAR ISLAND by Nevada Barr.
SHAKESPEARE AT BOOK CARNIVAL!
If you love "The Bard", then join us for Saturday Morning Shakespeare! On the 2nd and 4th Saturdays of each month at 10:00 a.m, the Saturday Morning Shakespeare Reading Group meets to read and discuss one of Shakespeare's plays. You are welcome to join – all you have to do is show up!
NOTE: SHAKESPEARE GROUP WILL BE DARK FOR THE MONTH OF AUGUST 2019 – WILL RESUME IN SEPTEMBER 2019 WITH THEIR NORMAL SCHEDULE.