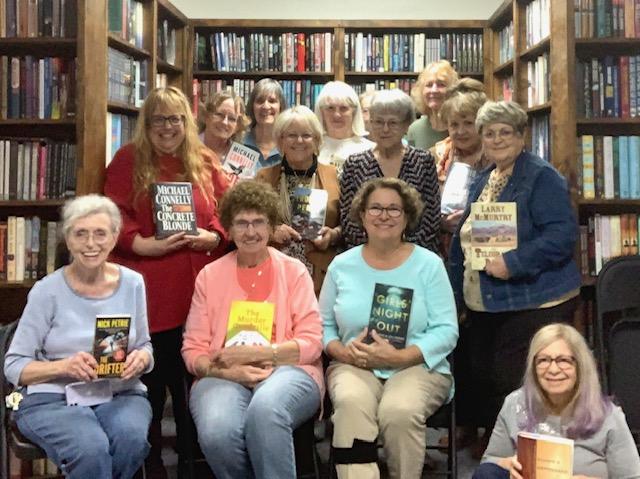 Our book club is open to all and we welcome new members. It's informal and discussions range from the selected book to others that the members have read during the previous month, as well as movies and TV shows of the genre.
The list of books read by our club are as follows: HI Five by Joe Ide, The Heartless by David Putnam, Into The Fire by Gregg Hurwitz, Kindred Spirits by Jan Bannister, The Flight Girls by Noelle Salazar (not a mystery), St. Alban's Fire by Archer Mayor, Single and Single by John LeCarre, Burning Bright by Nick Petrie, Deep State by Chris Hauty, The Drifter by Nick Petrie, If You Only Knew by Kristan Higgins (not a mystery), Names of the Dead by KristinWignall, This Was Not The Plan by Cristina Alger, The Burglar by Thomas Perry, Dark River Rising by Roger Johns, The Back Wing by Mike Befeler, Manhattan Beach by Jennifer Egan, The Bone Tree by Greg Iles, Lost Hills by Lee Goldberg, Night Fire by Michael Connelly, Me by Elton John (not a mystery), The Walnut Tree by Charles Todd, The Darkest Secret by Alex Marwood, Time and Trouble by Amanda Pepper, Elevator Pitch by Linwood Barclay, Becoming by Michelle Obama (not a mystery), Night Agent by Mathew Quirk, Land of Wolves by Craig Johnson, Little Women by Louisa May Alcott (a classic), 13 Minute Mystery by James Patterson, The Fifty Column by Andrew Gross, Murder in Little Italy by Victoria Thompson, A Lady's Guide to Etiquette and Murder by Dianne Freeman, A Cajun Christmas Killing by Ellen Byron, Ninth House by Leigh Bardug.
Our next meeting will be on Wednesday, February 26 at 6:00 p.m, and the book we will be reading is HI FIVE by Joe Ide .  Any questions about this either email or call me. Copies are available at Book Carnival. If anyone wants one of the books read by the book club, we may have copies in stock or I will be happy to order for you.
SHAKESPEARE AT BOOK CARNIVAL!
If you love "The Bard", then join us for Saturday Morning Shakespeare! On the 2nd and 4th Saturdays of each month at 10:00 a.m, the Saturday Morning Shakespeare Reading Group meets to read and discuss one of Shakespeare's plays. You are welcome to join – all you have to do is show up!