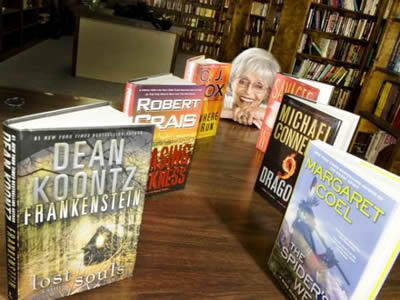 Our book club is open to all and we welcome new members. It's informal and discussions range from the selected book to others that the members have read during the previous month, as well as movies and TV shows of the genre.
We always have so much fun at our book club meetings and this one was no exception.
Here are some of the books read in April and not reported in the newsletter: Macbeth by Jo Nesbo; Skyjack and the Freedom Broker by K.J. Howe; All The Beautiful Lies by Peter Swanson; Fade To Black by David Rosenfelt; Closer Than You Know by Brad Parks; The Escape Artist by Brad Meltzer; I'll Keep You Safe by Peter May; The Knowledge by Martha Grimes; Rules of Deception by Christopher Reich; The Hash by John Hart; Summer of the Big Bachi and Hiroshima Boy by Naomi Hirahara; Down To The River Into The Sea y Walter Mosley; Sometimes I Lie by Alice Feeney; Watch Me Disappear by Janelle Brown; Odd Child Out by Gilly MacMillan; Dead In The Water by Denise Swanson; King Maybe by Timothy Hallianan; Perfect Strangers by Meghan Miranda; The Last Equation of Isaac Severy by Nova Jacobs; Cast Iron by Peter May; A Beautiful Blue Death by Charles Finch; Murphy's Law and Farleigh Field by Rhys Bowen; The Pajama Frame by Diane Vallere;The Disappeared by C. J. Box; The Dry by Jane Harper.
At the meeting last night we added a few more books that were read and enjoyed by the club members: The Outsider by Stephen King; Hollywood Station by Joseph Wambaugh; A Fistful of Rain by Baron Birtcher; Tag Man by Archer Mayor; The Child Finder by Rene Denfeld; Stars Are Fire by Anita Shreeve (not a mystery); My Story by Elizabeth Short (not a mystery); Man With A Crooked Hat and Bad Things Happen by Harry Dolan; Sulpher Springs by William Kent Kreuger; Lilac Girls by Marthan Hall Kelly (not a mystery); The Dark Angel by Elly Griffiths. Two tv shows highly recommended are Killing Eve on BBCAmerica and The Grand Hotel on PBS.
Our next meeting will be on Wednesday, June 27 , at 6:00 p.m, and the book we are reading is The Gray Ghost Murders by Keith McCafferty. If you want a copy and don't find it elsewhere, I will be happy to order for you.  Please let me know early if you do – we do tend to run out fairly quickly.
Also don't forget to check our website  – annesbookcarnival.com  – I can update that immediately with new signings and news. This newsletter only comes out once a month.
SHAKESPEARE AT BOOK CARNIVAL!
If you love "The Bard", then join us for Saturday Morning Shakespeare! On the 2nd and 4th Saturdays of each month at 10:00 a.m, the Saturday Morning Shakespeare Reading Group meets to read and discuss one of Shakespeare's plays. You are welcome to join – all you have to do is show up!