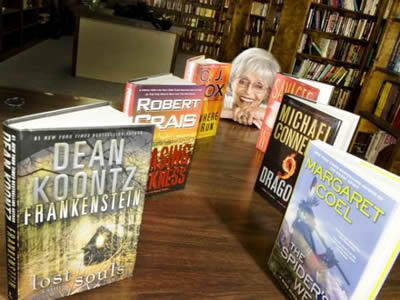 Our book club is open to all and we welcome new members. It's informal and discussions range from the selected book to others that the members have read during the previous month, as well as movies and TV shows of the genre.
The list of books read by our club are as follows: I Found You and Watching You both by Lisa Jewel, Snakehead by Peter May, She Lies In Wait by Gytha Lodge, Like Lions by Brian Panowich, The Burglar by Thomas Perry, Lethal White by Robert Galbraith, Murderous Mistral by Cay Rademacher, The Dark Tide by Andrew Gross, The Guernsey Literary & Potato Peel Pie Society by Mary Ann Shaffer & Anne Barrows, Swift Vengeance by T. Jefferson Parker, Body On The Bayou by Ellen Byron, Righteous by Joe Ide, Silent Night by Helen Brann, Easy Death by Charlene Harris, The Child and The Suspect both by Fiona Barton, The Last Detective by Peter Lovesey, The Wedding Guest by Jonathan Kellerman, Killing by Commendatore by Haruki Murakami, The Winner's Circle by P. J. Colondo, Judgement by Joseph Finder, Freefall by Jessica Barry, Inspector Imanishi, Investigator by Seicho Matsumoto, Reason To Doubt by Nancy Cole Silverman, Designed For Haunting by Sybil Johnson, A Baker Street Wedding by Michael Robertson, Blink: The Power of Thinking Without Thinking by Malcolm Gladwell (not a mystery), The Great Alone by Kristin Hannah (not a mystery), I Am Not Your Perfect Mexican Daughter by Erika L. Sanchez (not a mystery), The Night Agent by Matthew Quirk, The Chess Men by Peter May, Miss Kapp Just Won't Quit by Amy Stewart, A Grave Coffin and The Paper Man both by Gwendoline Butler, Deep Winter by Samuel Gailey, The Crypt Thief by Mark Pryor.
The majority the book club thoroughly enjoyed The Frangipani Tree by Ovidia Yu and several had read the second book in the series The Betel Tree Mystery by Ovidia Yu.
Our next meeting will be on Wednesday, April 3 and the book we are reading is I Found You by Lisa Jewel.
SHAKESPEARE AT BOOK CARNIVAL!
If you love "The Bard", then join us for Saturday Morning Shakespeare! On the 2nd and 4th Saturdays of each month at 10:00 a.m, the Saturday Morning Shakespeare Reading Group meets to read and discuss one of Shakespeare's plays. You are welcome to join – all you have to do is show up!