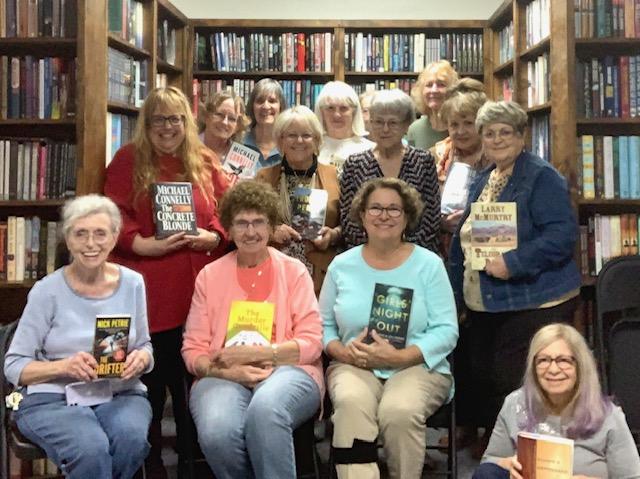 Our book club is open to all and we welcome new members. It's informal and discussions range from the selected book to others that the members have read during the previous month, as well as movies and TV shows of the genre.
The list of 
books
 read by our club are as follows: Valentine by Elizabeth Wetmore (not a mystery); Homer's Odyssey by Gwen Cooper (not a mystery); Mutts & Men by Spencer Quinn; The Herd by Andrea Bartz; Gone by Midnight by Candice Fox; Careful What You Wish for by Hallie Ephron; Drama High by Michael Sokolove (not a mystery – true story about a high school in Levittown, PA whose drama teacher put on such wonderful plays that the producer of shows like Cats, The Phantom of the Opera and Miss Saigon would take a limo from New York to Levittown to see his productions. The unfortunately very brief, wonderful, TV show called RISE was based on this 
book
); A Forgotten Murder by Jude Deveraux; 
Book
 of the Dead by Patricia Cornwall; Damage Control by j. A. Jance; Blood Work by Michael Connelly; Make Me by Lee Child; The Cove by Catherine Coulter; Unsinkable by Daniel Allen Butler; Little White Lies by Ace Atkins; In The Bleak Midwinter by Julia Spencer Fleming.
All book club meetings will be on Zoom for the next several months

. Details to follow

.
Our next 
Zoom
 meeting will be on 
Wednesday, June 24 at 6:00 p.m, and the 

book

 we will be reading is ONE NIGHT GONE by Tara Laskowski.  Any questions about this either email or call me. I will try to order some of copies for those interested.
The Shakespeare group is currently postponed and will start up again in the future when it's deemed safe to do so. We look forward to that time.
If you love "The Bard", then join us for Saturday Morning Shakespeare! On the 2nd and 4th Saturdays of each month at 10:00 a.m, the Saturday Morning Shakespeare Reading Group meets to read and discuss one of Shakespeare's plays. You are welcome to join – all you have to do is show up!