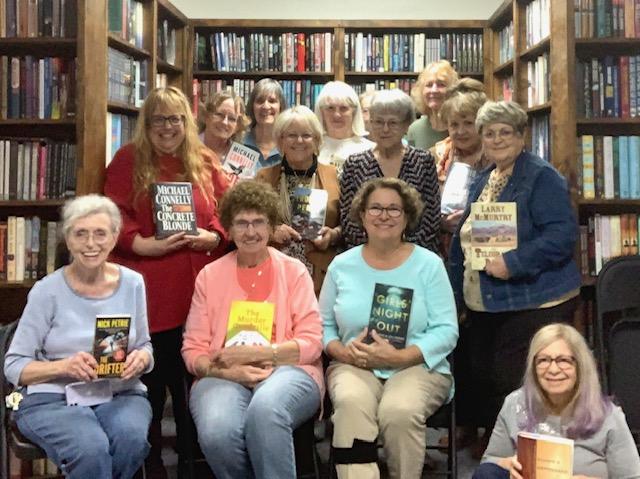 Our book club is open to all and we welcome new members. It's informal and discussions range from the selected book to others that the members have read during the previous month, as well as movies and TV shows of the genre.
The list of books read by our club are as follows: The Evil Men Do by John McMahon; Matter of Motive by Margot Kinberg; The Cabinets of Barnaby Mayne by Elsa Hart; Gone By Midnight by Candice Fox; Pretty As A Picture by Elizabeth Little; Living With Your Kids Is Murder by Mike Befeler; Salvation Of A Saint by Keigo Higashino; The Other Mrs by Mary Kubica; Save Me From Dangerous Men by S. A. Leichuk, IQ by Joe Ide; An Uninvited Ghost by E. J. Copperman; Wicked Women by Chris Enss; No Witness But the Moon by Suzanne Chazin; St. Alban's Fire by Archer Mayor; Don't Let Go by Harlan Coban; The Black Ascot by Charles Todd; One Good Dead by David Baldacci; Burning Bright by Nick Petrie; A Single Thread by Tracy Chevalier (not a mystery); The Library Book by Susan Orlean; The Book Woman of Troublesome Creek by Kim Michelle Richardson; Mumbo Gumbo Murder by Laura Child; More Historical Whodunnits edited by Mike Ashley; The Wild One by Nick Petrie; Something To Lose by Andrew Gross; The Redbeast by Jo Nesbo; the Wandering Ghost by Martin Limon; The Back Wing by Mike Befeler; Night Tremors by Matt Coyle; Black Water and The Blue Hour by T. Jefferson Parker; Jitterbug by Loren D. Estleman; There Was An Old Woman by Hattie Ephron; Mystery of the Dinner Playhouse by Mike Befeler; Where The Crawdads Sing by Delia Owens.
Our next meeting will be on Wednesday, March 25 at 6:00 p.m, and the book we will be reading is any one of Matthew Quirk's books We have several different titles here or you can certainly get one or more from the library .  Any questions about this either email or call me. I will try to order some of copies for those interested. 
SHAKESPEARE AT BOOK CARNIVAL!
If you love "The Bard", then join us for Saturday Morning Shakespeare! On the 2nd and 4th Saturdays of each month at 10:00 a.m, the Saturday Morning Shakespeare Reading Group meets to read and discuss one of Shakespeare's plays. You are welcome to join – all you have to do is show up!