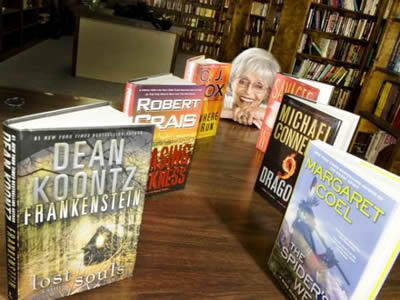 Our book club is open to all and we welcome new members. It's informal and discussions range from the selected book to others that the members have read during the previous month, as well as movies and TV shows of the genre.
The list of books read by our club are as follows: Resurrection by Emma Viskic, A Few Right Thnking Men by Sulari Gentill, Preservation by Jock Serong, The Holiday Murders by Robert Gott, Ghosted by Rosie Walsh, The Wife Between Us, Greer Hendricks & Sarah Pekkanem, The Last Mrs. Parrish by Liv Constantine, A Better Man by Louise Penny, Poet by Michael Connelly, The Monkey's Raincoat by Robert Crais, This Was Not The Plan by Cristina Alger, Mr. Churchill's Secretary by Susan Elia MacNeal, The Fifth Column by Andrew Gross, Iced In Paradise by Naomi Hirahara, Artifacts, Relics, Effigies, Findings, Floodgates and Strangers all by Mary Anna Evans, What Rose Forgot by Nevada Barr, Maigret Bides His Time by Georges Simenon, Kapp Sisters On The March by Amy Stewart, Murder of a Stacked Librarian by Denise Swanson, Don't Let Go by Harlan Coben, Murder On Grub Street by Bruce Alexander; Nothing Ventured by Jeffrey Archer, Roadside Crosses and Solitude Creek by Jeffery Deaver, The Evening Spider by Emily Arsenault, The Dead Caller From Chicago by Jack Fredrickson, The Scarecrow by Michael Connelly, O'Brien's Desk by Ona Russell, Hudson's Kill by Paddy Hirsch, A Fall of Marigolds & The Last Year Of The War both by Susan Meissner (not a mystery), The Bookshop of Yesterdays by Amy Myerson (not a mystery), The Ensemble Book Club by Aja Gabel(not a mystery), One Man by Andrew Gross, FreeFall by Jessica Barry, A Ghostly Undertaking by Tonya Kappes, Skin In The Game by D. P. Lyle, The Shape of Night by Tess Gerritsen, Your House Will Pay by Steph Cha, Dachshund Through The Snow by David Rosenfelt, No Way To Die by Warren C. Easley, G.I. Confidential by Martin Limon.
Our next meeting will be on Wednesday, November 20 at 6:00 p.m, and the book we will be reading is ELEVATOR PITCH by Linwood Barclay.  Any questions about this either email or call me. I will try to order some of copies for those interested. 
In addition, for those of you with extra time for reading I wanted to recommend Julia Spencer Fleming who has a wonderful series featuring Chief of Police Russ Van Alstyne and the Reverend Clare Fergusson. After a long hiatus Fleming will have a new book in 2020, which I am very excited about. The first book in the series is In The Bleak Midwinter. And then I love to introduce readers to an older author whose work you may not be aware of and that would be John Harvey. His series features Detective Inspector Charlie Resneck who is in CID headquarters in a modest sized city in England's Midlands. His first book is Lonely Hearts and was published in 1989. It was chosen by the Times as one of the '100 Best Crime Novels of the Century'. 
SHAKESPEARE AT BOOK CARNIVAL!
If you love "The Bard", then join us for Saturday Morning Shakespeare! On the 2nd and 4th Saturdays of each month at 10:00 a.m, the Saturday Morning Shakespeare Reading Group meets to read and discuss one of Shakespeare's plays. You are welcome to join – all you have to do is show up!