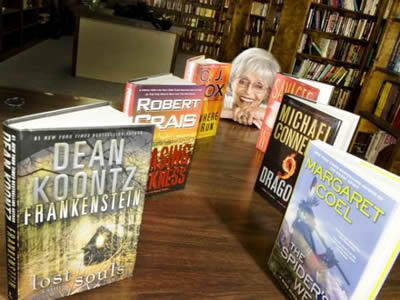 Our book club is open to all and we welcome new members. It's informal and discussions range from the selected book to others that the members have read during the previous month, as well as movies and TV shows of the genre.
The list of books read by our club are as follows: Spirit of Steamboat by Craig Johnson; Lost You by Haylin Beck (aka Stuart Neville); Careful What You Wish For by Hallie Ephran; Kindred Spirits by Jo Bannister; The Rise of Magicks by Nora Roberts; The Animals at Lockwood Manor by Jane Healey; Strangers and Catacombs by Mary Anna Evans; The Night Fire by Michael Connelly; High Stakes by John F. Dobbyn; 19th Christmas by James Patterson;The Many Deaths of the Firefly Brothers by Thomas Mullen; Wreck The Halls by Sarah Graves; G. I. Confidential by Martin Limon; Bittersweet by Susan Wittig Albert; Have You Seen Luis Velez? by Catherine Ryan Hyde; Murder On Astor Place by Victoria Thompson; Summer of '69 by Erin Hildebrand; And Fire Came Down by Emma Viskic; The Holiday Murders by Robert Gott; Dashchund Through the Snow by David Rosenfelt; Dragonfly by Leila Meacham.
Our next meeting will be on Wednesday, January 29 at 6:00 p.m, and the book we will be reading is THE DRIFTER BY NICK PETRIE. Any questions about this either email or call me. I will try to order some of copies for those interested.
SHAKESPEARE AT BOOK CARNIVAL!
If you love "The Bard", then join us for Saturday Morning Shakespeare! On the 2nd and 4th Saturdays of each month at 10:00 a.m, the Saturday Morning Shakespeare Reading Group meets to read and discuss one of Shakespeare's plays. You are welcome to join – all you have to do is show up! SHAKESPEARE IS DARK IN DECEMBER; PLEASE JOIN US IN JANUARY 2020