Did you already add something to your cart? View your cart to continue checking out
Well, the last fling of summer is upon us – Labor Day weekend! I hope you make the most of it for fun, relaxation and reading! I know I plan to!! It also brings us some new (to Book Carnival) authors and some great favorites returning, so check out the signings and mark your calendars!
Please note that Book Carnival will be closed September 5 to observe Labor Day as well as September 6 & 7 for an extended weekend!
Remember, it's always fun at the Carnival! –Anne
MARGARET COEL
Sunday, August 28, 3:00 P.M.
WINTER'S CHILD
$27.00 Add to cart
A childless Arapaho couple on the Wind River Reservation find an infant on their doorstep. They care for the child, expecting someone to claim her. Months go by, then years, but no one comes. Myra and Eldon Little Shield fall in love with the child they call Mary Ann. The child is white. Afraid that social services-the white people-will take Mary Ann, they claim she is a foster child. But when she is about to start school, they know they must legally adopt her or face losing her. They take steps to do so but before the process can begin the lawyer helping them is killed. Arapaho attorney Vicky Holden and Father John O'Malley are drawn into the case. Coincidentally, Father John's niece, Shannon, a doctoral student, arrives at St. Francis Mission to research the captivity story of Elizabeth Fletcher, captured on the plains in 1865 and raised Arapaho. Soon Vicky and Father John realize the the fates of the two white girls, separated by more than a century, are intertwined. As they begin to uncover the truth about how Mary Ann came to the reservation, both must draw upon their wits to save their own lives and defeat a determined killer.
TWO AUTHORS


Saturday, September 10, 2:00 P.M.

THE LAST TIME SHE SAW HIM
JANE HASELDINE

$25.00 Add to cart
Julia Gooden remembers nothing about the worst night of her life. Thirty years ago, her nine-year-old brother Ben – the person who promised he would always protect her – was abducted from the room they shared. Try as she might to recall any clue or detail, there is a black hole where Julia's memories of that terrible event should be. Now a crime reporter at a Detroit newspaper, Julia tries to give others the closure she's never found. But guilt and grief over Ben's disappearance have left her fearful that whoever took her brother is going to come back. Nowhere seems safe – not the city, not the suburbs, not even the secluded lake town where she plans to raise her children. And then, on the anniversary of Ben's disappearance, Julia's worst fears are realized when her two-year-old son, Will, is snatched from his bed. Are the crimes related? Are sudden reminders of her brother clues or merely coincidence?

THE STRIVERS' ROW SPY
JASON OVERSTREET

$25.00 Add to cart
For college graduate Sidney Temple, the Roaring Twenties bring opportunities even members of his accomplished black bourgeois family couldn't have imagined. His impulsive marriage to artist Loretta is a happiness he never thought he'd find. And when he's tapped by J. Edgar Hoover to be the FBI's first African-American agent, he sees a once-in-a-lifetime chance to secure real justice. Instead of providing evidence against a suspect, Sidney uses his unexpected knack for deception and undercover work to thwart the Bureau's biased investigation. And by giving renowned leader W.E.B. DuBois insider information, Sidney gambles on change that could mean a fair destiny for all Americans. Stunning, suspenseful, Overstreet's debut novel glitters with the vibrant dreams and dangerous promise of the 1920s Harlem Renaissance, as one man crosses the perilous lines between the law, loyalty and deadly lies.
ALEX MARWOOD
Sunday, September 11, 2:00 P.M.
THE DARKEST SECRET

$16.00 Add to cart
When a child goes missing at an opulent house party, it makes international news. But what really happens behind closed doors? Twelve years ago, Mila Jackson's three-year-old half sister Coco disappeared during their father's fiftieth birthday party. Her identical twin Ruby was left behind as the only witness. The girls' father, Sean, was wealthy and influential as were the friends gathered at their seaside vacation home for the weekend's debauchery. The case ignited a media frenzy and forever changed the lives of everyone involved. Now Sean Jackson is dead, and the people who were present that terrible night must gather once more for a funeral that will reveal that the secrets of the past can never stay hidden. Perfectly paced all the way through its devastating conclusion, the Irish Times calls it 'as much a black comedy of contemporary bad manners as psychological thriller'.
CRAIG JOHNSON
Friday, September 23, 7:30 P.M.
AN OBVIOUS FACT
$28.00 Add to cart
In the 12th novel in the New York Times bestselling Longmire series, Walt, Henry and Vic discover much more than they bargained for when they are called to investigate a hit-and-run accident involving a young motorcyclist near Devil's Tower. In the midst of the largest motorcycle rally in the world, a young biker is run off the road and ends up in critical condition. When Sheriff Walt Longmire and his good friend Henry Standing Bear are called to Hulett, Wyoming – the nearest town to America's first national monument, Devil's Tower – to investigate, things start getting complicated. As competing biker gangs, the Bureau of Alcohol, Tobacco and Firearms, a military-grade vehicle donated to the tiny local police force by a wealthy entrepreneur and Lola, the real-life femme fatale and namesake for Henry's '59 Thunderbird (and by extension, Walt's granddaughter) come into play, it rapidly becomes clear that there is more to get to the bottom of at this year's Sturgis Motorcycle Rally than a bike accident. After all, in the words of Sir Arthur Conan Doyle, whose Adventures of Sherlock Holmes the Bear won't stop quoting, "There is nothing more deceptive than an obvious fact".  Hard copies of THE HIGHWAYMAN, a novella by Craig Johnson, will also be available.
Note: This event will take place at the Orange Public Library, Chapman and Shaffer, in the City of Orange.
TYLER DILTS
Sunday, September 25, 2:00 P.M.
COME TWILIGHT

$15.95 Add to cart
For the first time in years, things are going well for Long Beach homicide detective Danny Beckett. He's closing cases with his partner, Jennifer Tanaka, and keeping a spare suit at the condo of his girlfriend, Julia Rice. But Danny's peace is shattered when he's called to investigate an apparent suicide – one that quickly reveals itself to be murder. Just as Danny begins to investigate, a bomb detonates in his car while it's parked in a mechanic's lot, sidelining him from both the murder case and the hunt for his own assassin. Placed into protective custody at the home of his partner, the headstrong investigator must resist the temptation to break protocol – and find the willpower to stop his own self-destructive behavior before it threatens his two most important relationships. But what happens when Danny must choose between following the rules and saving a life? Note: We will have previous books in this series available in softcover.

JOANNE FLUKE
Thursday, September 29, 3:30 p.m.
CHRISTMAS CARAMEL MURDER

$20.00 Add to cart
Chr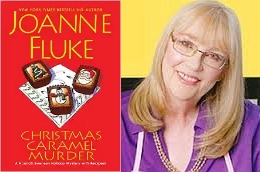 istmas normally descends on Lake Eden, Minnesota, as gently as reindeer alighting on a rooftop – but this yuletide season it seems like the only thing coming down Hannah Swensen's chimney is a Santa sized sackful of trouble! When a naughty Mrs. Claus turns up dead before curtain call for the town's annual production of A Christmas Carol, the suspects start piling up faster than snowdrifts in a blizzard. Can Hannah catch the merry murderer in time for a happy holiday?
ONGOING EVENTS:
SHAKESPEARE AT BOOK CARNIVAL
If you love "The Bard", then join us for Saturday Morning Shakespeare!! On the 2nd and 4th Saturdays of each month at 10:00 a.m, the Saturday Morning Shakespeare Reading Group meets to read and discuss one of Shakespeare's plays.
You are welcome to join – all you have to do is show up!!

WATCH FOR THESE UPCOMING SIGNINGS
WILLIAM KENT KRUEGER, Manitou Canyon

$24.99 Add to cart


SHANNON BAKER, Stripped Bare

$24.99 Add to cart


Tuesday, October 4, 7:30 P.M.      

DATE CORRECTION
DIANE VALLERE, Masking for Trouble

$7.99 Add to cart


GIGI PANDIAN, Michelangelo's Ghost
$15.95 Add to cart


ELLEN BYRON, Body on the Bayou

$25.99 Add to cart


Saturday, October 8, 4:00 P. M.   

Please note the time!!
S.M. FREEDMAN, Impact Winter

$15.95 Add to cart


NYASIA A. MAIRE, Heretic's Child

$16.95 Add to cart


Saturday, October 15, 3:00 P.M.
NANCY COLE SILVERMAN, Without A Doubt

$15.95 Add to cart


D. J. ADAMSON, Suppose
$13.99 Add to cart


Sunday, October 16, 2:00 P.M.
ANN PARKER, What Gold Buys
$15.95 Add to cart


JEAN FLOWERS (aka Camille Minichino), Cancelled By Murder

$7.99 Add to cart


Saturday, October 22, 2:00 P. M.
ED LIN, Incensed

$26.95 Add to cart


DAVID MOSS, This Isn't A Game

$26.95 Add to cart


Sunday, October 23, 2:00 P.M.
COREY LYNN FAYMAN, Border Field Blues

$11.99 Add to cart


ROLAND COLTON, Forever Gentleman,
$25.00 Add to cart


Saturday, October 29, 3:00 P.M.
MICHAEL CONNELLY, The Wrong Side of Goodbye
$29.00 Add to cart


Sunday, November 6, 4:00 P.M.
This will be a free ticketed event that will be held at the Orange Public Library. If you plan to attend
please stop by or contact Book Carnival to receive your ticket.
TIM HALLINAN, Fields Where They Lay

$27.99 Add to cart


Saturday, November 12, 2:00 P.M.
MATT COYLE, Dark Fissures

$26.95 Add to cart


Saturday, December 10, 2:00 P.M.
Please note that Book Carnival reports sales to the New York Times, Indiebound and SCIBA, which means that when you purchase your books here, it directly helps to promote your favorite authors.
BOOK NEWS
These books will be in shortly after their release day and all will be signed, unless noted below…
THE JEALOUS KIND by James Lee Burke – release August 2016  

THE JEALOUS KIND BY BURKE IS IN!

THE SIXTH IDEA by P. J. Tracy-release August 2016 – Monkeewrench is back!!!! 

This book should be in shortly-had to send to the authors for signing, then back to BC!

CLOSED CASKET by Sophie Hannah – release date September 2016  

CLOSED CASKET BY HANNAH IS IN!

RAZOR GIRL by Carl Hiaasen – release date September 2016  

RAZOR GIRL BY HIAASEN IS IN!

THE WRONG SIDE OF GOODBYE by Michael Connelly – release date October 2016  
TURBO TWENTY-THREE by Janet Evanovich – release date November 2016
10,000 LAKES: TALES FROM THE NORTH COUNTRY by William Kent Krueger. Special, oversized, edition signed by William Kent Krueger, Steve Hamilton (who wrote the introduction), Libby Fischer Hellman (who wrote the afterword), and Phil Parks (illustrator), many full page illustrations.  

Limited supply – order soon, these will go quickly!
COLLECTIONS
Signed copy of END OF WATCH by STEPHEN KING   $300
For those of you who enjoy Clive Barker and might be missing copies of BOOKS OF BLOOD, I have signed copies, with dust jackets, of Volumes 1 through 6. Some foxing on edges, otherwise very good condition.
Set of 15 black leather bound AGATHA CHRISTIE books (too many titles to list here), with gold lettering for title and author, in lovely condition. Unread. Would look beautiful in your favorite bookcase or on a shelf. Another good gift idea.
There are links to four different collections to be found on our Signed Books Page. Inquiries can be emailed to me at info@annesbookcarnival.com or call to 714-538-3210. Lists will be updated weekly as far as sales are concerned.
BOOK CONVENTIONS
SEPTEMBER 15-18, 2016, Bouchercon 2016, New Orleans, LA.
US Guest of Honor: Harlan Coben; International Guest of Honor: Mo Hayder; Lifetime Achievement: David Morrell
OCTOBER 28-30, 2016, Magna Cum Murder, Columbia Club, Indianapolis, IN
GOH: Natasha Cooper
MARCH 16-19, 2017,

Left Coast Crime 2017

, Honolulu, HI
Lifetime Achievement: Faye & Jonathan Kellerman; GOH: Dana Stabenow; GOH: Colin Cotterill; Toastmaster: Laurie R. King
SEPTEMBER 12-15, 2017,

Bouchercon 2017,

Toronto, Ontario, Canada
Canadian GOH: Louise Penny; US GOH: Megan Abbott; International GOH: Christopher Brookmyre; B'Con4Kids GOH: Chris Brabenstein
MARCH 22-25, 2018, 

Left Coast Crime 2018, 

Reno, Nevada
SEPTEMBER 6-9, 2018, 

Bouchercon 2018,

St. Petersburg, FL
MARCH 28-31, 2019, 

Left Coast Crime 2019, 

Vancouver, British Columbia
SEPTEMBER 12-15, 2019,

Bouchercon 2019, 

Dallas, TX