Did you already add something to your cart? View your cart to continue checking out
We used to say that if March roared in like a lion it would leave like a lamb, and vice versa. That's more true for the midwest and east than it is here in California. Due to all the rain (we are SO lucky!) flowers are blooming everywhere and riverbeds actually have some water in them!
All of our authors this month will be 'roaring' in with exciting books. Some familiar and some new! All excellent! Be sure to mark the dates on your calendar and come out and support these authors who give us so many hours of enjoyment.
Book Carnival will be closing at 2:00 p.m, on Saturday, March 4th. Also we will be closed from March 15th through March 23rd while I am at Left Coast Crime.
HOWEVER, please note that there is a signing on Saturday, March 18th. Please support this author who was kind enough to skip Hawaii just to be at Book Carnival!!
Remember, it's always fun at the Carnival! –Anne
JOE LANSDALE
Monday, March 6, 7:00 P.M.
RUSTY PUPPY
$26.00 Add to cart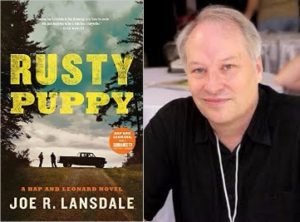 While Hap, a former 60's activist and self-proclaimed white trash rebel, is recovering from a life-threatening stab wound, Louise Elton comes into Hap and Leonard's PI office to tell him that the police have killed her son, Jamar. Months earlier, a bully cop pulled over and sexually harassed Jamar's sister, Charm. The officer followed Charm over the course of the next couple of months, leading Jamar to videotape and take notes on the cop and his partner. The next thing Louise hears, Jamar got in a fight and is killed in the projects by local hoods. It doesn't add up: he was a straight A student, destined for better things, until he began to ask too many questions about the racist police force.
ANNE CLEELAND
Saturday, March 11, 2:00 P.M.
MURDER IN ALL HONOR

$14.99 Add to cart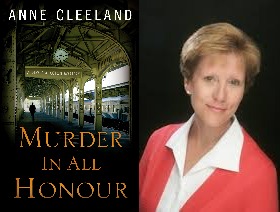 We're in for a treat because there is another Acton and Doyle adventure to be enjoyed, even if things are a bit grim at Scotland Yard. On the heels of a nasty corruption scandal, the CID must now contend with a killer who is murdering pregnant women in order to steal their babies. Chief Inspector Acton doesn't want Doyle anywhere near this case, of course, but she can't shake the feeling that there is more to his concern than his usual over-protectiveness – and more to this case than the usual psycho-killer.

JOSEPH BADAL
Sunday, March 12, 2:00 P.M.
DARK ANGEL
$15.95 Add to cart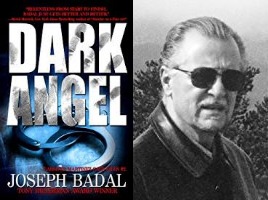 Second in the Lassiter/Martinez Case Files series, Detectives Barbara Lassiter and Susan Martinez are assigned to a murder case only to discover their suspect is much more than a one-off killer. In fact, the murderer appears to be a vigilante, taking revenge against career criminals who the justice system has failed to punish. At the same time, they are aware of an FBI investigation of a brutal home invasion gang that has murdered dozens of people across the U.S. When Lassiter and Martinez discover a link between the vigilante killer and the home invasion gang, they find themselves caught up in the middle of an FBI investigation that brings them into conflict with powerful people who are motivated more by career self-preservation than by bringing justice to innocent victims.
STEPHEN MACK JONES
Saturday, March 18, 3:00 P.M.
AUGUST SNOW

$27.00 Add to cart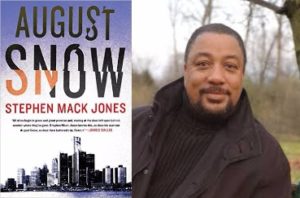 Tough, smart and struggling to stay alive, August Snow is the embodiment of Detroit. The son of an African-American father and a Mexican-American mother, August grew up in the city's Mexicantown and joined the police force only to be drummed out by a conspiracy of corrupt cops and politicians. But August fought back; he took on the city and got himself a $12 million wrongful dismissal settlement that left him low on friends. He has just returned to the house he grew up in after a year away, and quickly learns he has many scores to settle. It's not long before he's summoned to the palatial Grosse Pointe Estates home of business magnate Eleanore Paget. Powerful and manipulative, Paget wants Snow to investigate unusual happenings at her private wealth management bank. But detective work is no longer August's beat and he declines. A day later Paget is dead – supposedly a suicide, which August doesn't buy for a minute! What begins as an inquiry into Paget's death soon drags Snow into a rat's nest of Detroit's most dangerous criminals, from corporate investors and tattooed mercenaries.
TWO AUTHORS


Wednesday, March 29,7:00 P.M.
DUPLICITY
JANE HASELDINE

$25.00 Add to cart
Julia Gooden knows how to juggle different lives. A successful crime reporter, she covers the grittiest stories in the city while raising two young boys in the suburbs. At the same time, she is still consumed by the disappearance, 30 years ago, of her nine-year-old brother. Julia's marriage to Assistant DA David Tanner is also a balancing act to maintain professional boundaries. David is about to bring Nick Rossi to trial for crimes that include drug trafficking, illegal gambling and bribery. But the story becomes much more urgent when a courthouse bomb claims several victims – including the prosecution's key witness – and leaves David critically injured. Julia feels certain that Rossi orchestrated the attack, causing the case against him to begin to collapse.
Kirkus said 'Haseldine uses her experience as a crime reporter to bring authenticity to her writing.
LONG TIME LOST
CHRIS EWAN

$27.99 Add to cart
"Don't call anyone else and stay inside the house. Pack a small bag. Just one." "You'll come then?" "I'll be there soon. But remember, Kate – there's no going back."
Nick Miller and his team provide a unique and highly illegal service, relocating at-risk individuals across Europe with new identities and new lives. Nick excels at what he does for a reason: he himself spent years living in the shadows under an assumed name. But when Nick steps in to prevent the attempted murder of witness-in-hiding Kate Sutherland on the Isle of Man, he triggers a chain of events with devastating consequences for everyone he protects. Kate – and now Nick – are under attack by Connor Lane, a man who will stop at nothing to get what he wants, even if it means tearing Nick's entire network apart.

ONGOING EVENTS:
SHAKESPEARE AT BOOK CARNIVAL
If you love "The Bard", then join us for Saturday Morning Shakespeare!! On the 2nd and 4th Saturdays of each month at 10:00 a.m, the Saturday Morning Shakespeare Reading Group meets to read and discuss one of Shakespeare's plays.
You are welcome to join – all you have to do is show up!!

WATCH FOR THESE UPCOMING SIGNINGS
ERIC PETERSON, The Dining Car

$16.95 Add to cart


Sunday, April 9, 2:00 P.M.
MATTHEW QUIRK, Dead Man's Switch

$26.00 Add to cart


Saturday, April 15, 3:00 P.M.
 ANN CLEEVES, Cold Earth (Shetland/Jimmy Perez)
Books written by Ann Cleeves are the inspiration for the popular PBS shows Vera and Shetland.
$25.99 Add to cart


Saturday, April 22, 2:00 P.M.
BARON R. BIRTCHER, South California Purples

$28.00 Add to cart


Sunday, May 7, 2:00 P.M.
LAUNCH PARTY!!
 PETER BLAUNER, Proving Ground

$25.99 Add to cart


Saturday, May 20, 3:00 P.M.
THOMAS PLUCK, Bad Boy Boogie

$18.95 Add to cart


ERIC BEETNER, The Devil At Your Door
$19.95 Add to cart


JOSH STALLINGS, Young Americans

$15.00 Add to cart


NOLAN KNIGHT, The Neon Lights Are Veins

$16.95 Add to cart


DUANE SWIERCZNSKI, Canary

$14.95 Add to cart


S. W. LAUDEN, Crossed Bones

$10.95 Add to cart


Sunday, May 21, 2:00 P.M.
SHARI LAPENA, The Couple Next Door

$16.00 Add to cart


Saturday, June 3, 2:00 P.M.
TAMMY KAEHLER, Kiss The Bricks

$15.95 Add to cart


JAMES ZISKIN, Cast The First Stone

$15.95 Add to cart


Tuesday, June 13, 7:00 P.M.
RHYS BOWEN, On Her Majesty's Frightfully Secret Service

$26.00 Add to cart


Sunday, August 6, 2:00 P.M.
RICK CAMPBELL, Blackmail
$25.99 Add to cart


Sunday, August 20, 2:00 P.M.
WILLIAM KENT KREUGER, Sulfer Springs

$26.00 Add to cart


Saturday, September 16, 2:00 P.M.
Please note that Book Carnival reports sales to the New York Times, Indiebound and SCIBA, which means that when you purchase your books here, it directly helps to promote your favorite authors.
BOOK NEWS
These books will be in shortly after their release day and all will be signed, unless noted below…
THE NOWHERE MAN by GREGG HURWITZ –

JUST ARRIVED!

Gregg would love to be with us, but is working on three different scripts – simultaneously! Will be back with us next year for his next book!
VICIOUS CIRCLE by C. J. BOX – 

JUST ARRIVED

NORSE MYTHOLOGY by NEIL GAIMAN – JUST ARRIVED – 

not signed.

MISSISSIPPI BLOOD by Greg Iles  – release date 3/21/17
COLLECTIONS
There are links to four different collections to be found on our Signed Books Page. Inquiries can be emailed to me at info@annesbookcarnival.com or call to 714-538-3210.
BOOK CONVENTIONS
MARCH 16-19, 2017,

Left Coast Crime 2017

,

Honolulu, HI


Lifetime Achievement: Faye & Jonathan Kellerman; GOH: Dana Stabenow; GOH: Colin Cotterill; Toastmaster: Laurie R. King
JULY 7-9, 2017, Longmire Days, held in
Buffalo, WY

.

DATES ARE NOW AVAILABLE!


For updates, 'like' the Buffalo Chamber of Commerce website.
OCTOBER 12-15, 2017,

Bouchercon 2017
,

Toronto, Ontario, Canada    

CORRECTED DATE!


Canadian GOH: Louise Penny; US GOH: Megan Abbott; International GOH: Christopher Brookmyre; B'Con4Kids GOH: Chris Grabenstein
MARCH 22-25, 2018,

Left Coast Crime 2018,

Reno, Nevada
GOH: Naomi Hirahara; GOH: William Kent Krueger; Toastmaster: Todd Borg; Ghost of Honor: Mark Twain.
SEPTEMBER 6-9, 2018,

Bouchercon 2018,

St. Petersburg, FL
MARCH 28-31, 2019,

Left Coast Crime 2019,

Vancouver, British Columbia
American GOH: C. J. Box; Canadian GOH: Maureen Jennings; Toastmaster: Cathy Ace; Fan GOH: Don & Jen Longmuir from Scene of the Crime Books.
SEPTEMBER 12-15, 2019,

Bouchercon 2019,

Dallas, TX