Did you already add something to your cart? View your cart to continue checking out
There are some great signings this month, as well as future months, so be sure to mark your calendars so you don't miss the fun! And check out our website frequently as I update that as signings/events are firmed up.
Please RSVP for Ann Cleeves event – don't want anyone disappointed.
–Anne
Remember, it's always fun at the Carnival! –Anne
ERIC PETERSON
Sunday, April 9, 2:00 P.M.
THE DINING CAR

$16.95 Add to cart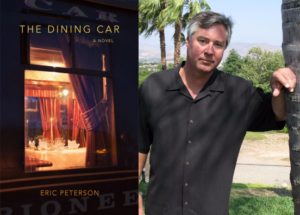 Fresh from a public humiliation and in search of his true calling, former college football star Jack Marshall enlists as bartender and steward aboard Horace Button's vintage private railroad car, the Pioneer Mother, which is transporting the legendary food writer and social critic across the country in opulent style. Decked out in a white jacket, mixing perfect cocktails, Jack is immersed in a style of living – and dining – he'd assumed was extinct. While striving to appease the eccentric, finicky Horace, and Wanda, the Pioneer Mother's enigmatic chef, Jack falls under the spell of Giselle Lebeau, a gorgeous celebrity chef whose designs on him test his self-control and his loyalty. But when tragedy rocks Horace's insulated white-linen world, Jack must take charge of a simmering stew of quirky yet powerful personalities – all while staying in Wanda's good graces and keeping an eye on their newest passenger.
MATTHEW QUIRK
Saturday, April 15, 3:00 P.M.
DEAD MAN'S SWITCH

$26.00 Add to cart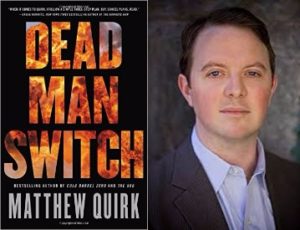 A deadly fall on a rugged stretch of California coast. A burglary gone wrong in Virginia. These incidents seem unrelated, but the victims were living undercover, their true identities closely held secrets. They are members of a classified team, the last line of defense against foreign threats. Now, someone is assassinating them, one by one, taking out family members and innocent bystanders to make the deaths seem like accidents. Captain John Hayes, a special operations legend, has left the military to settle down with his family. But when he pieces together a pattern behind the murders and discovers that his protegee Claire Rhodes, a brilliant assassin, is the prime suspect, he returns to duty to unmask the attackers. With every success, the killers grow bolder. Their ultimate goal: Lure Hayes and his remaining fellow soldiers to Manhattan, to eliminate them all in a single devastating strike. To save his teammates and thousands of innocent lives, Hayes must find a way to stop a seemingly unstoppable weapon.
ANN CLEEVES
Saturday, April 22, 2:00 P.M.
COLD EARTH (Shetland Series/Jimmy Perez)

$25.99 Add to cart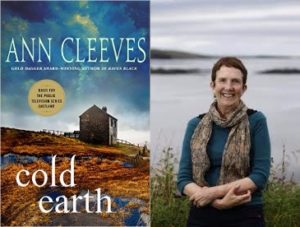 In the dark days of a Shetland winter, torrential rain triggers a landslide that crosses the main road and sweeps down to the sea.
At the burial of his old friend Magnus Tait, Jimmy Perez watches the flood of mud and water smash through a house in its path. Everyone thinks the home is uninhabited, but in the wreckage he finds the body of a dark-haired woman wearing a red silk dress. Perez soon becomes obsessed with tracing her identity and realizes he must find out who she was and how she died.
COLD EARTH is the seventh book in the beloved Shetland series, which is now a major success for the BBC. SHETLAND as well as Ann's other series, VERA, are very successful programs here in the States as well and are shown locally on PBS(KVCR). This is Ann's first tour in the U.S., and we are the only Southern California store on her tour! Let's make her feel very welcome for the reading and visual pleasure she has provided us.
ONGOING EVENTS:
SHAKESPEARE AT BOOK CARNIVAL
If you love "The Bard", then join us for Saturday Morning Shakespeare!! On the 2nd and 4th Saturdays of each month at 10:00 a.m, the Saturday Morning Shakespeare Reading Group meets to read and discuss one of Shakespeare's plays.
You are welcome to join – all you have to do is show up!!

WATCH FOR THESE UPCOMING SIGNINGS
BARON R. BIRTCHER, South California Purples

$28.00 Add to cart


Sunday, May 7, 2:00 P.M.
LAUNCH PARTY!!
PETER BLAUNER, Proving Ground

$25.99 Add to cart


Saturday, May 20, 3:00 P.M.
THE DIRTY (HALF) DOZEN, otherwise known as:
THOMAS PLUCK, Bad Boy Boogie

$18.95 Add to cart


ERIC BEETNER, The Devil Doesn't Want Me
$14.95 Add to cart


JOSH STALLINGS, Young Americans

$15.00 Add to cart


NOLAN KNIGHT, The Neon Lights Are Veins

$16.95 Add to cart


S. W. LAUDEN, Crossed Bones

$10.95 Add to cart


DUANE SWIERCYNSKI, Canary

$14.95 Add to cart


Sunday, May 21, 2:00 P.M.
SHARI LAPENA, The Couple Next Door

$16.00 Add to cart


LANCE CHARNES, The Collection
$14.95 Add to cart


Saturday, June 3, 2:00 P.M.
DIANE VALLERE, Cement Stilettos

$14.95 Add to cart


Sunday, June 4, 2:00 P.M.
This is a 5 year celebration of the Samantha Kidd/Style & Error series!
Special hardcover edition of first book in series Designer Dirty Laundry
$25.00 Add to cart
PARTY TIME! Pennsylvania Pretzel tasting contest, champagne and fun!
TAMMY KAEHLER, Kiss The Bricks

$15.95 Add to cart


JAMES ZISKIN, Cast The First Stone

$15.95 Add to cart


Tuesday, June 13, 7:00 P.M.
WARREN EASLEY, Blood For Wine
$15.95 Add to cart


Saturday, July 15, 2:00 P.M.
C. J. BOX, Paradise Valley
$27.99 Add to cart


Saturday, July 29, 2:00 P.M.
RHYS BOWEN, Her Majesty's Frightfully Secret Service
$26.00 Add to cart


Sunday, August 6, 2:00 P.M.
RICK CAMPBELL, Blackmail
$25.99 Add to cart


LISA BRACKMANN, Go-Between

$15.95 Add to cart


Sunday, August 20, 2:00 P.M.
CRAIG JOHNSON, The Western Star
Tuesday, September 5, 7:00 P.M.


LAUNCH PARTY

at Casa de Lago – details to follow!
WILLIAM KENT KREUGER, Sulfer Springs

$26.00 Add to cart


Saturday, September 16, 2:00 P.M.
ROGER JOHNS, Dark River Rising

$26.99 Add to cart


Sunday, September 24, 2:00 P.M.
Please note that Book Carnival reports sales to the New York Times, Indiebound and SCIBA, which means that when you purchase your books here, it directly helps to promote your favorite authors.
BOOK NEWS
These books will be in shortly after their release day and all will be signed, unless noted below…
THE SILENT CORNER by DEAN KOONTZ – release date early June – taking preorders now!
DANGEROUS MINDS by JANET EVANOVICH – release date June 20
THE LATE SHOW by MICHAEL CONNELLY – release July 2017 – taking preorders now!
THE TWELVE LIVES OF SAMUEL HAWLEY by Hannah Tinti – an Indi Next pick
COLLECTIONS
There are links to four different collections to be found on our Signed Books Page. Inquiries can be emailed to me at info@annesbookcarnival.com or call to 714-538-3210.
ONE FOR THE MONEY by Janet Evanovich; first edition signed; appears unread. $320
SKIN TIGHT by Carl Hiaasen; first edition signed; gently read with slight tanning on page edges. $150
BOOK CONVENTIONS
JULY 7-9, 2017, Longmire Days, held in
Buffalo, WY

.

DATES ARE NOW AVAILABLE!


For updates, 'like' the Buffalo Chamber of Commerce website.
OCTOBER 12-15, 2017,

Bouchercon 2017
,

Toronto, Ontario, Canada

CORRECTED DATE!


Canadian GOH: Louise Penny; US GOH: Megan Abbott; International GOH: Christopher Brookmyre; B'Con4Kids GOH: Chris Brabenstein
MARCH 22-25, 2018,

Left Coast Crime 2018,

Reno, Nevada
GOH: Naomi Hirahara; GOH: William Kent Krueger; Toastmaster: Todd Borg; Ghost of Honor: Mark Twain.
SEPTEMBER 6-9, 2018,

Bouchercon 2018,

St. Petersburg, FL
MARCH 28-31, 2019,

Left Coast Crime 2019,

Vancouver, British Columbia
American GOH: C. J. Box; Canadian GOH: Maureen Jennings; Toastmaster: Cathy Ace; Fan GOH: Don & Jen Longmuir from Scene of the Crime Books.
SEPTEMBER 12-15, 2019,

Bouchercon 2019,

Dallas, TX