Did you already add something to your cart? View your cart to continue checking out
With this July newsletter we are starting the second half of the year already! More signings, more fun and much more great reading in store for the rest of the year. Please note that BC will be closed July 1 for a long 4th of July weekend and then again from July 7 thru July 9 for Longmire Days!!
I hope that everyone has a wonderful and safe 4th of July!
Towards the end of August we will be having a huge 3 day sale to celebrate the 35 years that Book Carnival has been in business and the 6 years that I have owned the store. Watch for details.
Remember, it's always fun at the Carnival! —Anne
MARTIN LIMON
Saturday, July 16, 3:00 P.M.
PING PONG HEART

$26.95 Add to cart
South Korea 1974: CID Sergeants George Sueno and Ernie Bascom are assigned an underwhelming case of petty theft – Major Frederick M. Schulz has accused Mis Jo Kyong-ja, an Itaewon bar girl, of stealing twenty-five thousand won from him – a sum equaling less than $50USD. After two very divergent accounts of what happened, Miss Jo is attacked, and Schulz is found hacked to death only days later. Looking into other motives for Schulz's death, George and Ernie discover that the major was investigating the 501st Military Intelligence Battalion; the Army's counterintelligence arm, solely dedicated to tracking North Korean spies. The division is rife with suspects, but it's dangerous to speak out against them in a period of Cold War finger-pointing. As George and Ernie go heat-to-head with the battalion's powerful, intimidating commander, Lance Blood, they learn that messing with the 501st can have very personal consequences.
WARREN EASLEY
Sunday, July 17, 2:00 P.M.
NOT DEAD ENOUGH

$26.95 Add to cart
The closing of the floodgates of the mammoth Dalles Dam on the Columbia River inundated the sacred falls and the Native American village at Celilo which depended on the river's magnificent fish. Nelson Queah, Wasco Indian, war hero and passionate opponent of the dam, watched helplessly as 10,000 years of tribal history and fishing tradition disappeared. That 1957 night, Nelson Queah also vanished. Fifty years later, attorney Cal Claxton, new to Portland after a career as a prosecutor in Los Angeles, attends a commemoration of the flooding of the falls at the behest of his friend,Philip Lone Deer, who introduces Cal to his cousin, Winona Cloud-Queah's granddaughter. She reveals that she has found saved letters from Queah to his wife before he vanished that suggest foul play. As Cal gets involved between the Native American and white cultures,Oregon politics, murder and activists who question the value of dams in light of new energy sources, he finds Winona a strong, interesting partner in trying to right some very old wrongs.
ANNE A. WILSON
Wednesday, July 20, 7:30 P.M.
CLEAR TO LIFT

$25.99 Add to cart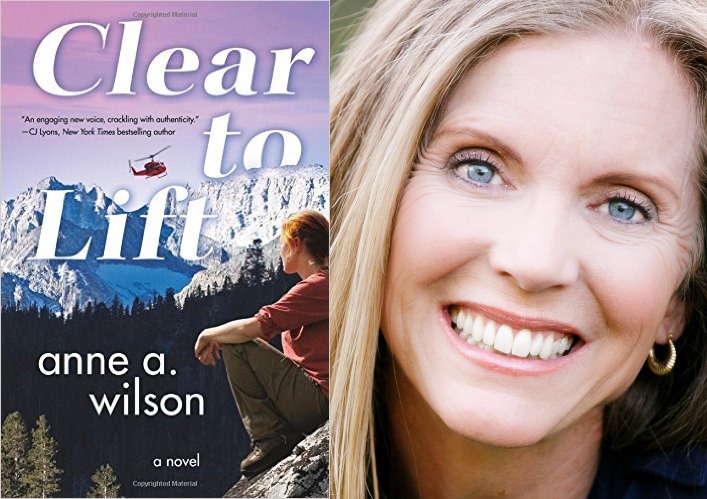 Navy helicopter pilot Lt. Alison Malone has been assigned to a search and rescue team based at Naval Air Station Fallon, Nevada, near the rugged peaks of the Sierra Nevada, and far from her former elite H-60 squadron. A rule follower by nature, Alison is exasperated and outraged every time she flies with her mission commander, "Boomer" Marks, for whom military procedures are merely a suggestion. Alison is desperate to be transferred out of the boonies, where careers stagnate, and back to her life and fiance in San Diego. Stranded on a mountain during a sudden dangerous blizzard, Alison questions every truth she thought she knew about herself.
Anne E. Wilson graduated from the U.S. Naval Academy and served nine years active duty as a navy helicopter pilot. This included three years as a search and rescue pilot where she specialized in high altitude, technical mountain rescue.
Copies of Anne's first book, Hover, will also be available.
TWO AUTHORS


Saturday, July 23, 3:00 P.M.

DEEP SIX
DOUG LYLE

$26.95 Add to cart
Retired professional baseball player Jake Longly has agreed to do some surveillance work for his PI father Ray. Jake's first assignment is to take pictures of a cheating wife but things get complicated when she's murdered and her lover turns out to be the new husband of Jake's ex-wife. When Jake, Ray and Jake's new girlfriend, screenwriter Nicole Jamison, investigate they realize that there's a connection to a local crime boss with some shady real estate plans. This mix of quirky characters and brutal acts of violence should offer plenty of grist for fans of the hard-boiled genre.

A MORE DEADLY UNION
GAYLE CARLINE

$13.99 Add to cart
How far would you go for someone you love? Someone is threatening Peri Minneopa's client. The most likely suspect is a man whose past relationship with her client could ruin his chances at being elected mayor. This would be easier if her boyfriend, Detective Skip Carlton, wasn't in a coma after being shot. Peri's been dating him for 10 years, but without a marriage license, she can't even visit him in the hospital. She knows better than to interfere with the police's efforts to find Skip's shooter, but her case keeps showing up in the middle of their investigation.
MICHAEL ROBERTSON
Sunday, July 24, 2:00 P.M.
BAKER STREET JURORS

$24.99 Add to cart
Everyone must do jury duty-even Sherlock Holmes! A nation's greatest sports hero has been accused of murder and the nation is in an uproar. In a desperate,computer-generated attempt to fill its quota of jurors, the Crown Court has included on its summons list the known occupants-real and otherwise- of 221B Baker Street Street. One summons is addressed to Sherlock Holmes and the Crown Court Jury Selection Service doesn't care whether Holmes is real or fictional or which century he existed! The other is addressed to Mr. Nigel Heath, who is sleeping on the couch in the office at present. Before the trial is done, Nigel and each of his fellow prospective jurors will wonder if they will live long enough to be impaneled, much less render a verdict.
PETER SPIEGELMAN
Wednesday, July 27, 7:30 P.M.
DR. KNOX

$26.95 Add to cart
Dr. Adam Knox, the eponymous narrator of this propulsive, intrigue-filled thriller from Shamus Award-winner Spiegelman, runs a health clinic near Los Angeles, treating addicts, transients, prostitutes and other disenfranchised patients. To help fund his humanitarian efforts, Knox does discreet after-hours home visits for celebrities and criminals, who pay well for Knox's silence. When a battered, terrified young Romanian woman brings in a very sick boy and then vanishes, Knox is left with a difficult choice: Child Protection Services or track the mother down on his own. A group of Russian thugs soon show up demanding the child and Knox finds himself in way over his head. So Knox asks for help from his friend Ben Sutter, a former Special Forces operator and together they become entangled in a seedy underworld of human traffickers and Russian mobsters.
DUANE SWIERCZYNSKI
Saturday, July 30, 2:00 P.M.
REVOLVER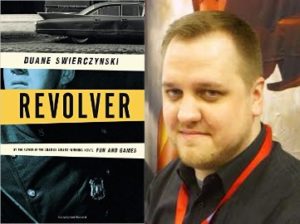 Three generations torn apart – by bullets fired fifty years ago!
Philadelphia, 1965: Two street cops – one white, one black – are gunned down in a corner bar. One of the fallen officers, Stan Walczak, leaves behind a 12-year-old boy, Jimmy.
Philadelphia, 1995: Homicide detective Jim Walczak, learns that his father's alleged killer, Terrill Lee Stanton, has been sprung from prison. Jim stalks the ex-con, hoping to finally learn the truth.
Philadelphia, 2015: Audrey, a forensic science student, reopens her grandfather's murder for a research paper. But as Audrey digs deeper, she comes to realize that Stanton probably didn't pull the trigger – and her father may have made a horrible mistake.
ONGOING EVENTS:
SHAKESPEARE AT BOOK CARNIVAL
If you love "The Bard", then join us for Saturday Morning Shakespeare!! On the 2nd and 4th Saturdays of each month at 10:00 a.m, the Saturday Morning Shakespeare Reading Group meets to read and discuss one of Shakespeare's plays.
You are welcome to join – all you have to do is show up!!
WATCH FOR THESE UPCOMING SIGNINGS!
CAROLE SOJKA, Psychic Damage
$14.99 Add to cart


JANET ELIZABETH LYNN & WILL ZEILINGER, Strange Markings

$14.99 Add to cart


Saturday, August 6, 2:00 P.M.
MEGAN ABBOTT, You Will Know Me

$26.00 Add to cart


Thursday, August 11, 7:30 P.M.
NANCY COLE SILVERMAN, Without A Doubt
$15.95 Add to cart


D. J. ADAMSON, Suppose

$13.99 Add to cart


ELLEN BYRON, Plantation Shudders

$15.99 Add to cart


Saturday, August 13, 2:00 P.M.
MIKE BEFELER, Court Trouble
$25.95 Add to cart


ERIN HUFF, For Rent

$11.99 Add to cart


Saturday, August 27, 2:00 P.M.
JANE HASELDINE, The Last Time She Saw Him

$25.00 Add to cart


JASON OVERSTREET, The Striver's Row Spy
$25.00 Add to cart


Saturday, September 10, 2:00 P.M.
ALEX MARWOOD, The Darkest Secret
$16.00 Add to cart


Sunday, September 11, 2:00 P.M.
CRAIG JOHNSON, An Obvious Fact
$28.00 Add to cart

**NEW DATE & TIME!!!**
This event will be held at the Orange Public Library
Friday, September 23, 7:30 P.M.
WILLIAM KENT KRUEGER, Manitou Canyon

$24.99 Add to cart


SHANNON BAKER, Stripped Bare

$24.99 Add to cart


Tuesday, October 4, 7:30 P.M.      

DATE CORRECTION
S.M. FREEDMAN, Impact Winter

$15.95 Add to cart


Saturday, October 15, 3:00 P.M.
ANN PARKER, What Gold Buys
$15.95 Add to cart


Saturday, October 22, 2:00 P. M.
ED LIN, Incensed

$26.95 Add to cart


Sunday, October 23, 2:00 P.M.
MATT COYLE, Dark Fissures

$26.95 Add to cart


Saturday, December 10, 2:00 P.M.
Please note that Book Carnival reports sales to the New York Times, Indiebound and SCIBA, which means that when you purchase your books here, it directly helps to promote your favorite authors.
BOOK NEWS
These books will be in shortly after their release day and all will be signed, unless noted below…
The Black Widow by Daniel Silva – release date July 2016 

NOW AVAILABLE!

COLLECTING THE DEAD by Spencer Kope – Release date is June 2016. **New author & first book in a new series – this book has been near the top of the best seller lists locally as well as nationwide.  Big seller!**
KILLER LOOK by Linda Fairstein – release July 2016
THE JEALOUS KIND by James Lee Burke – release August 2016
A TIME OF TORMENT by John Connolly – release August 2016
THE SIXTH IDEA by P. J. Tracy-release August 2016 – Monkeewrench is back!!!!
CLOSED CASKET by Sophie Hannah – release date September 2016
RAZOR GIRL by Carl Hiaasen – release date September 2016
COLLECTIONS
COUNT ZERO by William Gibson, the author of the Hugo and Nebula award winning Neuromancer. Also for those of you who enjoy Clive Barker and might be missing copies of BOOKS OF BLOOD, I have signed copies, with dust jackets, of Volumes 1 through 6. Some foxing on edges, otherwise very good condition.
Set of 7 Sherlock Holmes 1994 book of the month editions that include THE HOUND OF THE BASKERVILLES, THE VALLEY OF FEAR, THE SIGN OF THE FOUR, A STUDY IN SCARLET, MEMOIRS OF SHERLOCK HOLMES, THE CASEBOOK OF SHERLOCK HOLMES AND HIS LAST BOW. In very good condition with complimenting bookjackets, some appear to be unread with black and white illustrations. Small black dot on the bottom of five of them. Will only sell as a set. Would make a very nice gift for your favorite Sherlockian.
Set of 15 black leather bound AGATHA CHRISTIE books (too many titles to list here), with gold lettering for title and author, in lovely condition. Unread. Would look beautiful in your favorite bookcase or on a shelf. Another good gift idea.
There are links to four different collections to be found on our Signed Books Page. Inquiries can be emailed to me at info@annesbookcarnival.com or call to 714-538-3210. Lists will be updated weekly as far as sales are concerned.
BOOK CONVENTIONS
JULY 5-9, 2016, Thrillerfest XI, Grand Hyatt, New York City, NY|
Special Guests: Heather Graham; C. J. Box
AUGUST 5-7, 2016, Deadly Ink Mystery Conference, Hyatt Regency, New Brunswick, N.J.
GOH: Reed Farrel Coleman; Toastmaster: Hilary Davidson
SEPTEMBER 15-18, 2016, Bouchercon 2016, New Orleans, LA.
US Guest of Honor: Harlan Coben; International Guest of Honor: Mo Hayder; Lifetime Achievement: David Morrell
OCTOBER 28-30, 2016, Magna Cum Murder, Columbia Club, Indianapolis, IN
GOH: Natasha Cooper
SEPTEMBER 12-15, 2017, Bouchercon 2017, Toronto, Ontario, Canada
Canadian Guest of Honor: Louise Penny; US Guest of Honor: Megan Abbott; International Guest of Honor: Christopher Brookmyre; B'Con4Kids Guest of Honor: Chris Brabenstein
SEPTEMBER 12-15, 2018,

Bouchercon 2018, St. Petersburg, FL
SEPTEMBER 12-15, 2019,

Bouchercon 2019, Dallas, TX