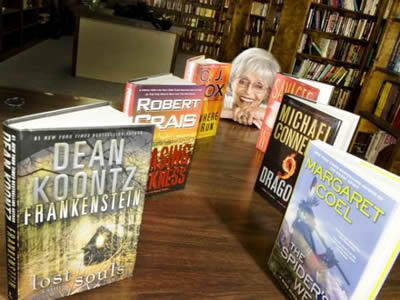 Our book club is open to all and we welcome new members. It's informal and discussions range from the selected book to others that the members have read during the previous month, as well as movies and TV shows of the genre.
Another very enthusiastic meeting! Barbara Howe gave us a wonderful demonstration of the ins and outs of using Goodreads on your computer. Thanks so much Barbara!
And, as usual, a lot of good reading going on: IQ by Joe Ide (remarkable first book!); A Piece of the World by Christina Baker Kline (not a mystery); Dragonfish by Vu Tran (not a mystery); Banquet of Consequences by Elizabeth George; Streetbird by Janwillem van de Wetering; Because I'm Watching by Christina Dodd; The Beautiful Dead by Belinda Bauer; Dr. Knox by Peter Spiegelman; If At Birth You Don't Succeed by Zach Anner (not a mystery); The Chalk Pit by Elly Griffiths; Dark Fissures by Matt Coyle; Exit Strategy by Steve Hamilton (but do read The Second Life of Nick Mason first!); Since We Fell by Dennis Lehane; Long Time Lost by Chris Ewan; The Seventh Victim by Nancy Churchill; August Snow by Stephen Mack Jones; Cold Earth by Ann Cleeves; House of Names by Colm Toibin; Blood Wedding and Alex both by Pierre Lemaitre; In The Blood by Steve Robinson. The following, in italics, are books I have read for future signings and are not yet available: City of Saviors by Rachel Howzell Hall; The Widows of Malabar Hill by Sujata Massey; On Her Majesty's Frightfully Secret Service by Rhys Bowen; Need You Dead by Peter James; Here and Gone by Haylen Beck (aka Stuart Neville) an amazing book with a fascinating new character!
Our next meeting will be on Wednesday, June 28, at 6:00 p.m,  and the book chosen is Not Dead Enough by Peter James.  This book should be available at the library and in softcover. If you find that is not the case, let me know and I will order some copies for you.
Also don't forget to check our website  –
annesbookcarnival.com
  – I can update that immediately with new signings and news. This newsletter only comes out once a month.
NOTE: I send out news to Book Club members in separate emails occasionally and I don't believe all of you are on that list. If you have not received such an email recently, please send me an email to info@annesbookcarnival.com so that I can add you. In the subject line type ADD TO LIST.  Thanks.  And I still need birth dates from many of you – just month and day!
SHAKESPEARE AT BOOK CARNIVAL!
If you love "The Bard", then join us for Saturday Morning Shakespeare! On the 2nd and 4th Saturdays of each month at 10:00 a.m, the Saturday Morning Shakespeare Reading Group meets to read and discuss one of Shakespeare's plays. You are welcome to join – all you have to do is show up!