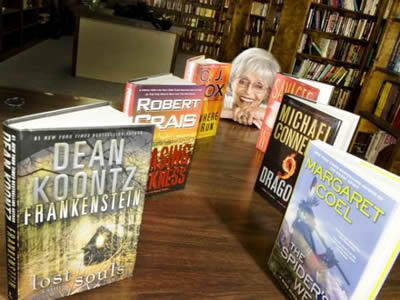 Our book club is open to all and we welcome new members. It's informal and discussions range from the selected book to others that the members have read during the previous month, as well as movies and TV shows of the genre.
It was a fun event at Book Club this month – lively discussion about books read; also we welcomed Dolly who joined us! Books read this past month were: Trafficked by Peg Bradley; Girl Who Takes an Eye for an Eye by David Langerkrantz; Love & Other Consolation Prizes by Jamie Ford; Cuban Affair by NelsonDeMille; The Dressmaker by Kate Alcott; Blackmail by Rick Campbell; The Destroyers by Christopher Bollen; Between Shades of Gray by Ruta Sepetys (not a mystery); To Be Where You Are by Jan Karon (not a mystery); Headhunters by Jo Nesbo.
BRAD ABRAHAM, our visiting author, captivated everyone with his reading from his book MAGICIANS IMPOSSIBLE!
Our next meeting will be on Wednesday, October 25, at 6:00 p.m, and the book we are reading is TAG MAN by Archer Mayor. I will order a few copies if anyone wants one.
We also plan to Skype with Archer Mayor – I will practice my tech skills between now and then!
Also don't forget to check our website  – annesbookcarnival.com  – I can update that immediately with new signings and news. This newsletter only comes out once a month.
SHAKESPEARE AT BOOK CARNIVAL!
If you love "The Bard", then join us for Saturday Morning Shakespeare! On the 2nd and 4th Saturdays of each month at 10:00 a.m, the Saturday Morning Shakespeare Reading Group meets to read and discuss one of Shakespeare's plays. You are welcome to join – all you have to do is show up!