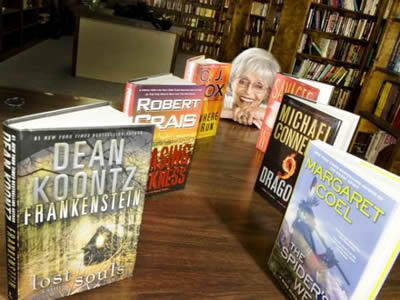 Our book club is open to all and we welcome new members. It's informal and discussions range from the selected book to others that the members have read during the previous month, as well as movies and TV shows of the genre.
A great combination Wednesday night at book club – a really good meeting and then a great signing by Jane Haseldine and Chris Ewan! And another new member – Sharon! Always happy to have new people join us.
Books read were Two Days Gone by Randall Silvas; Dark Road Home by Karen Harper; Most Dangerous Place by James Gippando; The Fix by David Baldacci; Lady Makes Trouble by Amy Stewart; Lily and the Octopus by Steven Lawley; Digging Up The Dead by Jill Amadio; Dead Man Switch by Matthew Quirk; Suspect by Robert Crais; August Snow by Stephen Mack Jones;
Our next meeting will be on
Wednesday, April 26

, at

6:00 p.m

, 
 and the book chosen is
Say Nothing by Brad Parks.
  This is a new book, so I won't be ordering any unless it is requested.
Also don't forget to check our website  –
annesbookcarnival.com
  – I can update that immediately with new signings and news. This newsletter only comes out once a month.
NOTE: I send out news to Book Club members in separate emails occasionally and I don't believe all of you are on that list. If you have not received such an email recently, please send me an email to info@annesbookcarnival.com so that I can add you. In the subject line type ADD TO LIST.  Thanks.
SHAKESPEARE AT BOOK CARNIVAL!
If you love "The Bard", then join us for Saturday Morning Shakespeare! On the 2nd and 4th Saturdays of each month at 10:00 a.m, the Saturday Morning Shakespeare Reading Group meets to read and discuss one of Shakespeare's plays. You are welcome to join – all you have to do is show up!
YA & YOU BOOK CLUB???
Since there has been almost no interest in this idea, it will be set aside for now and perhaps revisited some time in the future.