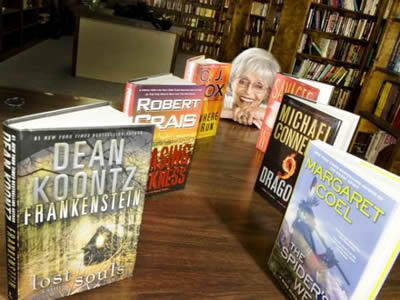 Our book club is open to all and we welcome new members. It's informal and discussions range from the selected book to others that the members have read during the previous month, as well as movies and TV shows of the genre.
Love this book club! Good turnout, new members showing up and lots of interest in the books and new programs of the genre – and maybe not. Because it is getting repetitive, I will try not duplicate titles read that have been mentioned once or twice before – you can refer back to previous emails. So books read were: House of Spies by Daniel Silva, The Break Down by B. A.Paris, Damage Control by Robert Dugoni, Every Fifteen Minutes by Lisa Scottolini, Final Cut by Catherine Coulter, The Little French Bistro by Nina George (not a mystery), Wired Sisters by Eleanor Brown (not a mystery), News of the World by Paulette Jiles (not a mystery but has jumped to the top of my reading list), A Gentleman in Moscow by Amor Toles, Kind Worth Killing by Peter Swanson, The Nest by Cynthia d Aprix Sweeney (family drama), Watch Me Disappear by Janelle Brown, After Life by Marcus Sakey, Collared by David Rosenfelt, Kabul Beauty School by Rodriguez & Ohlson (not a mystery), Here and Gone by Haylen Beck (aka Stuart Neville), Crime Scene by Jonathan & Jesse Kellerman. Whew!
Programs mentioned were River (Netflix) (highly recommended), Hinterland (Netflix) and Cardinal(Hulu). Also a new source of all British programming is Britbox. It's an app, first month is free, then $6.99/month after that.
Our next meeting will be on Wednesday, August 30, at 6:00 p.m, when BARRY LANCET will be our guest and the book we are reading is HER ROYAL SPYNESS by Rhys Bowen.
Also don't forget to check our website  – annesbookcarnival.com  – I can update that immediately with new signings and news. This newsletter only comes out once a month.
NOTE: I send out news to Book Club members in separate emails occasionally and I don't believe all of you are on that list. If you have not received such an email recently, please send me an email to info@annesbookcarnival.com so that I can add you. In the subject line type ADD TO LIST.  Thanks.  And I still need birth dates from many of you – just month and day!
SHAKESPEARE AT BOOK CARNIVAL!
If you love "The Bard", then join us for Saturday Morning Shakespeare! On the 2nd and 4th Saturdays of each month at 10:00 a.m, the Saturday Morning Shakespeare Reading Group meets to read and discuss one of Shakespeare's plays. You are welcome to join – all you have to do is show up!