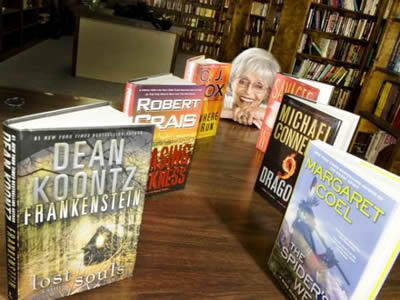 Our book club is open to all and we welcome new members. It's informal and discussions range from the selected book to others that the members have read during the previous month, as well as movies and TV shows of the genre.
We always have so much fun  at our book club meetings and this one was no exception. Adding to the fun was a photographer who came to take candid photos of our meeting!! Can't wait to see them.
It was pretty much unanimous that everyone enjoyed NEED TO KNOW by Karen Cleveland – suspenseful, well written, kept you going to the very end.
And, as usual, a lot of reading going on. Some of the books read and enjoyed by our members were: Woman In The Window by A. J. Finn; Seven Days of Us by Francesca Hornak; Little Fires Everywhere by Celeste Ing; Hell Bent by Gregg Hurwitz; Dressed for Death by Donna Leon; The Wife Between Us by Greer Hendricks; In Air by Ann Cleaves; Persons Unknown by Susie Steiner; Near You Dead by Peter James; The One by John Marrs; After I'm Gone by Laura Lippman; Year One by Nora Roberts; Death of An Honest May by M. C. Beaton; Cat's Eye by Margaret Atwood; Cruel Kind of Crime by Sophie Hannah; Blackout by Marc Elsberg; You'll Never Know by Hallie Ephron; Night Night, Sleep Tight by Hallie Ephron; Bury Your Dead by Louise Penny; Fistful of Rain by Baron R. Birtcher, Chicago by David Mamet.
Our next meeting will be on Wednesday, April 25, at 6:00 p.m, and the book we are reading is SUMMER OF THE BIG BACHI by Naomi Hirahara. If you want a copy, let me know as I will be ordering for the store. Order should be in by Thursday afternoon – so safe to plan on picking up either Friday, April 6 or Saturday, April 7. 
Also don't forget to check our website  – annesbookcarnival.com  – I can update that immediately with new signings and news. This newsletter only comes out once a month.
SHAKESPEARE AT BOOK CARNIVAL!
If you love "The Bard", then join us for Saturday Morning Shakespeare! On the 2nd and 4th Saturdays of each month at 10:00 a.m, the Saturday Morning Shakespeare Reading Group meets to read and discuss one of Shakespeare's plays. You are welcome to join – all you have to do is show up!