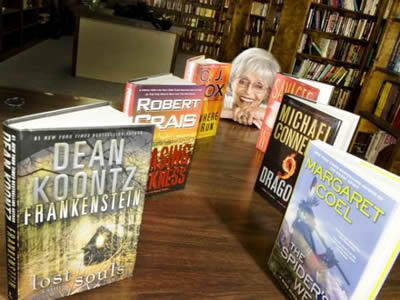 Our book club is open to all and we welcome new members. It's informal and discussions range from the selected book to others that the members have read during the previous month, as well as movies and TV shows of the genre.
Another stellar turnout for Book Club!! Plus we had two new members join us – Linda and Brigitte – always great to see new faces! Lots of reading going on as well. The majority had read and enjoyed Girl Waits With Gun by Amy Stewart. It was well paced, with some humor and especially great because, while not biographical, it was based on the lives of three sisters in that time period. Other books read by this active group were: The Drifter by Nicholas Petrie, The Stranger by Harlan Cohen (no, not a typo!), And Every Day The Way Home Gets Longer and Longer as well as Britt-Marie Was Here by Fredrik Backman(not mysteries), The Small Boat of Great Sorrows by Dan Fespermann (not a mystery), Razor Girl by Carl Hiaasen, Behind Her Eyes by Karen Pinborough, Her Every Fear by Peter Swanson, Written in Blood by Sheila Lowe, The Gentleman From Moscow by Amor Towles, Most Wanted by Lisa Scottaline, Small Great Things by Jodi Picolt(not a mystery), The Old Man by Thomas Perry.
Our next meeting will be on Wednesday, March 29 at 6:00 p.m,  and the book chosen is Raven Black by Ann Cleeves.
We also have two authors visiting us during Book Club and they will discuss their book. Jane Haseldine has been with us before and Chris Ewan (from England) happened to be in the area and I invited him to join us! See details above.
Also don't forget to check our website  – annesbookcarnival.com  – I can update that immediately with new signings and news. The newsletter only comes out once a month.
Another also – I had a typo in last month's newsletter. It should have read 'Alex Marwood's The Darkest Secret'.
NOTE: I send out news to Book Club members in separate emails occasionally and I don't believe all of you are on that list. If you have not received such an email recently, please send me an email to info@annesbookcarnival.com so that I can add you. In the subject line type ADD TO LIST.  Thanks.
SHAKESPEARE AT BOOK CARNIVAL!
If you love "The Bard", then join us for Saturday Morning Shakespeare! On the 2nd and 4th Saturdays of each month at 10:00 a.m, the Saturday Morning Shakespeare Reading Group meets to read and discuss one of Shakespeare's plays. You are welcome to join – all you have to do is show up!
YA & YOU BOOK CLUB???
Since there has been almost no interest in this idea, it will be set aside for now and perhaps revisited some time in the future.