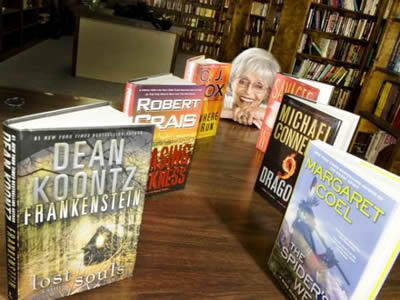 Our book club is open to all and we welcome new members. It's informal and discussions range from the selected book to others that the members have read during the previous month, as well as movies and TV shows of the genre.
Due to holiday overdose, the Book Club meeting for December did not happen! That just gives us more to talk about at the January meeting.
I really enjoyed our book club selection for December – The Last Dead Girl by Harry Dolan and am reading his current book (see below). We will discuss this book as well as the one I selected for January 2018, at the January meeting.
Not sure how many of you check out Book Carnival's Facebook page, but I reposted a beautifully written piece originally posted by Julia Spencer Fleming which explains her long absence from writing. It's very much worth reading.
I do want to mention a few books that I read during this period. Midnight in Peking(not a mystery) was a true story about the brutal killing of a British schoolgirl in 1937 China. Historically fascinating. During the course of the investigation (and beyond) WWII was looming, the Japanese were slowly surrounding China preparing to invade, the lifestyles of the expats as well as locals. Highly recommended. Other books I read for future release was The Stolen Angel by Sara Blaedel, The Deceivers by Alex Berenson, The Man In The Crooked Hat by Harry Dolan.
Our next meeting will be on Wednesday, January 31, at 6:00 p.m, and the book we are reading is THE DEEP, DARK DESCENDING by Alan Eskens . I will order a few copies if anyone wants one. Please let me know early if you want one – we do tend to run out fairly quickly.
Also don't forget to check our website  – annesbookcarnival.com  – I can update that immediately with new signings and news. This newsletter only comes out once a month.
SHAKESPEARE AT BOOK CARNIVAL!
If you love "The Bard", then join us for Saturday Morning Shakespeare! On the 2nd and 4th Saturdays of each month at 10:00 a.m, the Saturday Morning Shakespeare Reading Group meets to read and discuss one of Shakespeare's plays. You are welcome to join – all you have to do is show up!